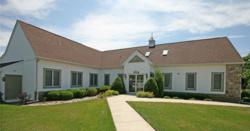 Bucks County, PA (PRWEB) December 02, 2012
Dr. Edward A. Marcus of Floral Vale Periodontics & Implants, P.C. restores the gum line for patients whose gums are receding with a gum grafting process. Periodontal disease affects millions of Americans each year. While the symptoms may not be noticeable in the early stages of the disease, one of the more noticeable problems is gum recession. The bacteria collect on the teeth and attack the gum tissue, which in turn can recede and leave tooth roots exposed. It can affect a single tooth or a number of teeth. A gum graft can raise the gum line so that the tooth is again protected.
Gum grafting surgery is commonly done one of three ways. The connective-tissue graft takes tissue from below a flap that is opened in the roof of the mouth. The free gingival graft uses material directly from the roof of the mouth, and the pedicle graft utilizes excess gum tissue adjacent to the recessed gum. Occasionally, tissue may be used from a tissue bank rather than directly from the patient.
A gum grafting procedure takes the graft and stitches it to the gum tissue around the low area in order to raise the gum line. Over time the graft material will grow together with the gum tissue it was attached to. The overall effect is a higher gum line, which not only protects the teeth from bacteria but also provides a more aesthetically pleasing appearance.
If periodontal disease is allowed to flourish unchecked in a patient's mouth, not only will gum recession likely occur, but bone loss often follows and teeth may be endangered. By treating the disease and protecting exposed teeth through a gum graft, a patient not only improves their dental health but improves their overall physical health. Gum disease has been connected to a variety of major health problems, so keeping it under control is very important. To learn more about the effects of periodontal disease and the gum graft procedure, visit http://www.mercerbucksperiodontist.com.
Floral Vale Periodontics & Implants, P.C., is a periodontal practice offering patients personalized dental care for the Bucks County area in Pennsylvania. Dr. Marcus received his undergraduate and dental education at Temple University where he graduated ranking first in his class. His post-doctoral training in Periodontics and Fixed Prosthodontics was completed at Temple University School of Dentistry. Dr. Marcus is one of only a handful of dentists in the United States that holds American Dental Association accredited specialty certification in both Periodontics and Prosthodontics. Dr. Marcus has many years of experience in dentistry, and is part of one percent of dental professionals providing the most recent FDA cleared laser procedure for gum disease and periodontal treatment. To learn more about Dr. Edward A. Marcus and his dental services visit his website at http://www.mercerbucksperiodontist.com and call (215) 600-4962.