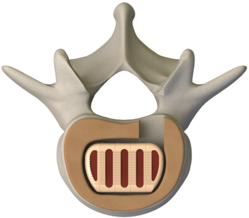 The InterFuse T™ implant is scheduled for full launch by the end of the year.
Minneapolis, Minnesota (PRWEB) December 04, 2012
Vertebral Technologies, Inc. (VTI), a spinal implant developer and manufacturer, announced today that over 2,500 InterFuse® interbody fusion devices have been implanted, including the 200th implant of the InterFuse T™, the TLIF fusion device.
"Vertebral Technologies is excited with the continued growth and development of the InterFuse System, and we are anticipating its continued growth in 2013," said Jeffrey Felt M.D., Chairman and CEO of VTI. "I am very proud of the work the team at VTI has done in developing a superior product line." The InterFuse T™ device allows surgeons to use the familiar and popular TLIF approach while achieving a larger footprint than current devices allow. Similarly to the InterFuse S™, this is accomplished by building a cage inside the disc space with three interlocking PEEK modular segments. The implant may be placed by a minimally invasive technique through a tube or via a mini-open technique. In addition to the TLIF product, the company also offers the InterFuse S™ device, which is implanted from a posterior approach. Furthermore, VTI also offers the InterFuse DA™, a modular ALIF device.
With the InterFuse T™ implant scheduled for full launch by the end of the year, the InterFuse product line is well established for increased sales growth in 2013.
About Vertebral Technologies, Inc.
Vertebral Technologies, Inc. is a privately held company developing and commercializing improved and less-invasive spinal therapies. The company received 510(k) clearance from the U.S. Food and Drug Administration (FDA) to market the InterFuse®, an interbody fusion device, in June 2008. The fusion device is sold through a national distribution network. The InterCushion, a new motion preserving device, is currently not available for sale and does not have FDA clearance in the United States.