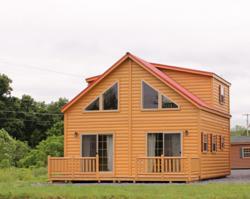 Wood-Tex Products saw building custom cabins as a means to fulfill their mission of providing quality structures at a fair price
Himrod, NY (PRWEB) December 03, 2012
From the time Sanford Lapp built his first storage shed in 1983 in Himrod, NY, Wood-Tex Products has continuously expanded reaching new milestones each year. The family owned business now operates with a team delivering quality constructed storage sheds, garages, horsebarns, chicken coops, greenhouses and more, nationwide. With a branch located in Fair Play, SC, in addition to their main location in Himrod, NY they are now better able than ever to pass savings on to the customer by operating as efficiently as possible.
For years Wood-Tex Products has been building recreational cabins which serve as hunting cabins, studios, camp ground cabins, and getaway cottages for their customers. This year they have achieved modular home state certification in several states and are pursuing certification in even more. This means that their structures can now be certified as full time residences and also opens areas for delivery previously closed where town codes require all cabins to be certified.
The process of certification is quite detailed and very rigorous and even after obtaining state certification a third party agency continues to monitor construction and quality control procedures. Though as Myron Glick, Vice President of Cabins, at Wood-Tex puts it, it's worth it because "it is very rewarding to build a home that our customers can use for year round living!"
Wood-Tex Products saw building custom cabins as a means to fulfill their mission of providing quality structures at a fair price. "We buy all of our materials in bulk quantities which allows us to buy the materials at a better price vs. buying just the right amount of materials per building" explained Mahlon Esh, a cabin salesman at Wood-Tex. Modular construction is also efficient because it allows construction to continue uninterrupted in a climate controlled environment until the structure is ready for delivery. Time working onsite is minimized allowing the home owner greater freedom during the construction period.
In addition to offering log siding there are several things that set Wood-Tex Products apart in the competitive market of modular homes. Perhaps most evident is the quality craftsmanship and dedicated customer service. "We work closely with the customer in designing the floor plan and customizing their cabin to make their dreams become a reality" remarked Esh, "paying attention to detail and communication is key to making sure the customer gets the cabin they envisioned. Wood-Tex has been manufacturing buildings since 1983 and we believe in building a good product. Our team members are very hard workers and do a really good job."
It's not only the Wood-Tex team who believes in their product but their customers as well! Several gave us feedback and here's what one had to say about their experience;
"I loved my experience working with the crew at Woodtex. Kent, Matt, Jared and all the rest were exceedingly attentive to the details, polite, friendly and returned calls and emails fast!!! The cabin had to be built on a steep grade at a hard-to-get-to place in the woods by Seneca Lake. They designed cement pillars and worked with the local building department to be sure all the requirements were met. They did a fantastic job. The workmanship is excellent. My family and I will enjoy that lovely cabin for many years to come. Thanks to Kent, Matt, Jared, and everyone else. We absolutely love it." ~Mary
As Gary Mast, sales manager for the branch in Fair Play, South Carolina puts it a significant part of the Wood-Tex experience for the customer is "the ease of getting access to a knowledgeable sales person and in-house install crew for onsite work." And just as the customers enjoy their finished cabin so does the team at Wood-Tex. The best part, Gary said, is "the way they make the homeowner smile when the structure is all finished."