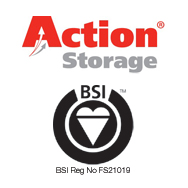 (PRWEB UK) 4 December 2012
Action Storage Systems have been given the certification of the BSI inspector for re-registration under the ISO9001: 2008 Quality Management System.
This scheduled "Strategic Review" was carried out on Monday 19th November 2012. This is the tri-annual examination carried out by an external auditor which occurs in addition to the annual external audits which verify the maintenance of the Quality System. It marks Action Storage Systems twenty years of association with this QA standard. The company was first accredited in July 1992 under the previous BS5750 standard and has successfully maintained the standard throughout that period.
It is fair to say that when times are tough, during economic recessions, management look for ways of reducing cost. Many companies have been concentrating on survival, however Action Storage Systems have never eased up on their desire to maintain the quality of product and service to our customers. Indeed we believe that it is the maintenance of this philosophy which keeps us in business.
The owner of Action Storage Systems, Tom Brialey, is committed to the future maintenance of the Quality System and will work with his team, particularly Sarah Wylde who runs the QA system, to develop Key Performance Indicators which will measure important aspects of the performance of the business with the intention of creating a culture of constant improvement.
For further details, please contact Sarah Wylde at sarah(at)action-storage(dot)co(dot)uk. Or please contact us by post:
Action Storage Limited
6 Fitzhamon Court
Wolverton Mill South
Milton Keynes
Bucks
MK12 6LB