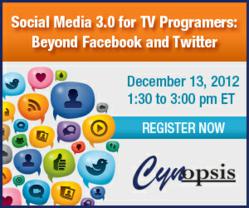 New York, NY (PRWEB) December 03, 2012
Experts from Bluefin, Discovery Communications, Ignited and MTV Networks will share bleeding edge social tactics, strategies, do's and dont's at the December 13 webinar, "Social Media 3.0 for TV Programmers: Beyond Facebook and Twitter." Hosted by Cynopsis, this interactive virtual workshop will provide insights and tactics on how to leverage social media and other digital platforms to increase engagement and calculate ROI of users.
Social media experts, Jessica Chow (Ignited), Thomas Fishman (MTV Networks), Pamela Russo (Discovery Communications) and Tom Thai (Bluefin), will share smart, proven strategies and tactics that have led to successful engagement with their audiences. This Cynopsis webinar is designed to provide you with must-have information that will help you attract, engage and connect your properties across multiple platforms, from TV to mobile apps, and from Facebook to Tumblr.
Beyond the tweets and statuses, there are dozens of new ways to build brand loyalty among these social media outlets - and during this 90-minute webinar, we'll show you how, addressing such topics as:

Leverage emerging social mobile media channels like Instagram and Viddy to find new audience niches.
Synchronize and optimize efforts across social media channels so the various platforms amplify one another.
Identify the video and photo assets that resonate in the new visual social economy (Pinterest, Tumblr, Instagram, Viddy).
Develop "social TV" content, interactions and apps that engage audiences on the new "second screen" of smartphones and tablets.
Develop social programs that bring audiences into the content development and promotion process.
Bring your advertisers into the social media conversation and explore new marketing models.
Build social programs that are measurable and come up with benchmarks for success and calculating ROI
Prioritize effort and identify the emerging social media opportunities that map best against your brands and audiences.
This highly interactive webinar will allow for real time Q&A's to ensure specific questions are answered.
To register for Cynopsis Social Media 3.0 for TV Programmers: Beyond Facebook and Twitter webinar, visit: http://www.cynopsis.com/webinars/social-media/
Webinar attendees receive full access to speaker presentations along with a certificate of completion. Webinar tuition is based on location, not number of participants, so each registration site can have multiple participants for one low price. Questions? Contact Trish Pihonak at trish(at)cynopsis(dot)com.
About Cynopsis Media
Cynopsis Media is a division of Access Intelligence LLC. The Cynopsis Media family of products includes Cynopsis, Cynopsis: Digital, Cynopsis: Kids and Cynopsis: Sports daily e-publications, weekly Cynopsis: Classified Advantage e-publication, Special eReports, Event/Summits and a strong database of Classifieds and more. Visit cynopsis.com.