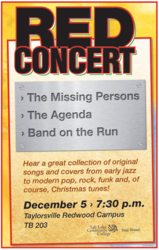 Salt Lake City, UT (PRWEB) December 01, 2012
Salt Lake Community College's Jazz Ensemble will be performing a jazz concert on Wednesday, December 5 in room 203 of the Technology Building at the Taylorsville Redwood Campus. The show will feature music from the bands "The Missing Persons," "The Agenda" and "Band on the Run" and will begin at 7:30 p.m.
The concert's theme is RED. The SLCC Jazz ensembles will perform original songs and covers of early jazz to modern pop, rock and funk music and Christmas.
The show is free and open to the public.
About the College: Salt Lake Community College is an accredited, student-focused, urban college meeting the diverse needs of the Salt Lake community. Home to more than 62,000 students each year, the College is the largest supplier of workforce development programs in the State of Utah. The College is the sole provider of applied technology courses in the Salt Lake area, with 13 sites, an eCampus, and nearly 1,000 continuing education sites located throughout the Salt Lake valley. Personal attention from an excellent faculty is paramount at the College, which maintains a student-to-teacher ratio of less than 20 to 1.
# # #