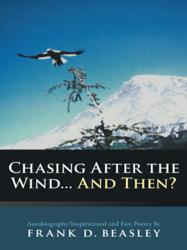 "The poetry that I have written have all been from great experiences and the heart."
Bowling Green, Kentucky (PRWEB) December 03, 2012
In his debut book, "Chasing After the Wind…and Then?" Frank Beasley combines enchanting stories from his youth during the Great Depression with poetry written at different points in his life to show how God has been present for him.
Beasley proves that it's never too late to share one's story. "I simply believed that I had to tell some of the stories about my childhood and that those times made me the person I am today," he says.
From early on, Beasley had a love for writing, especially poetry. This inspired him to share his writing, some of which was written while he was in high school. His poetry reflects on specific moments where God touched his life. He says, "The poetry that I have written have all been from great experiences and the heart."
A man shaped by his experiences and faith, Beasley shares his story in "Chasing After the Wind…and Then?" Readers will gain a true sense of Beasley's life experiences and be encouraged by the relationship he has built with God.
Chasing After the Wind…and Then?
By Frank D. Beasley
ISBN: 978-1-4497-6200-1 (sc); 978-1-4497-6200-1 (hc); 978-1-4497-6202-5 (e)
Softcover: $13.95
Hardcover: $30.95
Ebook: $3.99
Approximately 163 pages
Available at http://www.amazon.com and http://www.barnesandnoble.com
About the author:
Frank D. Beasley enjoys high mountain climbing, photography, boating and many other activities. He has taught English as a second language in orphanages in Honduras and schools in Kentucky. Beasley currently resides in Tennessee where he is a member of the First Baptist Church. For more information on Frank and his book, visit http://chasing-after-the-wind-and-then.com.
###