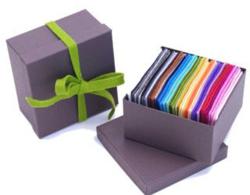 (PRWEB) December 05, 2012
Better Homes and Gardens' Christmas Ideas 2012 issue has prominently featured The Felt Pod as the best source for premium craft wool. The Felt Pod is one of the nation's few suppliers of 100% merino craft felt and is a favorite among crafters, seamstresses and professional designers alike. This high quality pure wool felt lasts season after season and unlike synthetic and other wool blends, merino wool felt is easy to cut, will not pill or stretch over time, making it ideal for all types of projects. The Felt Pod not only features a massive collection of colors, it also ships internationally and is a preferred source of pure wool felt for crafters both in the United States and abroad.
Since the 1990's, home crafting has experienced significant growth. Today, crafting is a multibillion-dollar industry, with one family member in 75% of American households spending at least 7.5 hours a week crafting (The American Hobby Industry Association). Demand for the highest quality Merino wool felt is especially high during the holiday season when crafting peaks. The need for a reliable wool source increases significantly during this time. Better Homes and Garden's uses The Felt Pod as their source for high quality crafting wool as it features one of the largest variety of felt colors on the web.
About the Products

Merino wool felt is 100% natural with no synthetic blends or toxic chemicals or dyes.
Over 61 felt colors, available in a variety of sizes ranging from rolls, sheets, and full yardage.
Made from the highest quality Merino sheep wool, widely regarded as the finest, softest wool available.
Oeko-Tex standard 100 certified, the highest safety certification available.
Highly durable, high quality crafting wool.
Eco-friendly, 100% biodegradable and non-flammable.
Cuts smoothly, without fraying.
Available in felt yardage, felt ribbons and felted balls.
Imported from Europe.
About The Felt Pod
The Felt Pod is dedicated to supplying the highest quality craft felt wool at extremely competitive prices. Owned and managed by passionate craftsmen and designers, The Felt Pod is intimately aware of what makes for a quality craft felt. They feature one of the largest offerings of Merino wool felt in North America, guarantee customer satisfaction and provide international shipping.