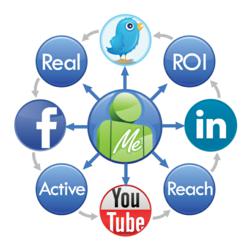 Denver, Colorado (PRWEB) December 03, 2012
Social Marketing for Business – Join the Conversation!, based in Centennial, Colorado, is one of the largest social media for business groups in the world with over 1,200 online members and an average attendance of over 60 people per month.
Denver-based marketing agency Webolutions® leads the group, managing the annual content calendar and moderating the discussion. The group shares social media marketing knowledge through Meetup.com, Facebook and Twitter and convenes once a month at the South Metro Denver Chamber.
"The group's mission is to help businesses generate measurable return on their social media marketing investment," said Webolutions CEO John Vachalek. "It's thrilling to see the community we're building."
For the second year in a row, the December gathering will demonstrate the group's sense of community. Group organizers offered to organize a gift exchange if group businesses provided the gifts, and membership responded enthusiastically with over $1,500 in giveaways ranging from a round of golf to a year's free membership to outsourced human resources service. Businesses providing gifts include:
ATA Centennial Family Martial Arts – Kicks4All.com
Human Resources Plus – HRPlusInc.com
GQ Barber Lounge - GQBarberLounge.com
Experience Pros Radio Show – ExperiencePros.com
South Metro Denver Chamber – BestChamber.com
Creek Side Gardens – PlantsByCreekside.com
KC Keefer Photography & Video – KCKeefer.com
Lone Tree Golf Club & Hotel – GolfLoneTree.com
Colorado AvidGolfer – ColoradoAvidGolfer.com
Webolutions – Webolutions.com
Conversation at each event focuses on a particular topic. Subject matter for the December 7 session is "Planning Your Social Media Marketing for 2013." Recent topics include Effective Listening to Social Media Channels, Creating a Social Media Strategy Plan and Advertising on Social Media Networks. In December, attendees will share how they will use those concepts to generate ROI from social media marketing in 2013. Additional activities include business networking and "Speed Tips" breakouts where immediately-actionable, tactical knowledge is shared.
Topics for 2013 include Understanding the Mechanics of a Social Media Communications Plan; Developing, Communicating and Understanding Your Brand Experience on Social Media; and Privacy & Copyright Concerns in Social Media Marketing, for which an expert attorney speaker is expected.
The entire business community is welcome and there is no cost to attend. Attendees are asked to RSVP through the group's website, Meetup.com/SocialMarketing. Breakfast is provided by My Favorite Muffin and Peet's Coffee Southglenn. Attendees receive documents and an opt-in email distribution provides links to summary blog posts and videos by Conversation Starters Public Relations.
For information about the group, please contact Webolutions Director of New Media Strategies Mike Hanbery at (phone) Mhanbery (at) Webolutions (dot) com.
About Webolutions
Founded in 1994, Webolutions is a privately owned full service marketing agency based in Denver, Colorado. The company's services include strategic branding, website design, application development, Internet marketing, experience marketing, public relations, email marketing, mobile marketing and social media. Media contact: Mike Hanbery (303) 300-2640, MHanbery (at) Webolutions (dot) com.