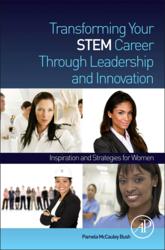 Waltham, MA (PRWEB) December 04, 2012
Elsevier, the world-leading provider of scientific, technical and medical information products and services, today announces the publication of Transforming Your STEM Career Through Leadership and Innovation: Inspiration and Strategies for Women, an Academic Press title by Dr. Pamela McCauley Bush (Chief Technology Officer, Bush Enterprises, Inc. and Associate Professor and Director of the Ergonomics Laboratory, Industrial Engineering and Management Systems Department, University of Central Florida).
For all women pursuing or involved in a career in science, technology, engineering and mathematics (STEM) fields, this is a must-have guide. The lessons it provides are relevant for women in all stages of their careers. This book offers valuable information on what it means to be a leader and innovator and encourages readers to discover and develop these skills themselves.
Accompanying the book is a website that features case studies, slides that can be used in teaching, and bullet points that summarize critical points of each chapter. The resources on this website are available to all who purchase the book.
Transforming Your STEM Career Through Leadership and Innovation also:

Examines research-based leadership and innovation principles to make these critically important characteristics both real and attainable
Empowers readers to build upon their own strengths and successes to discover and develop leadership and innovation skills
Provides a practical guide that educates, encourages and equips readers to pursue leadership and innovation opportunities
Dr. Bush is a successful researcher and innovator as demonstrated by the numerous federal research grants, technical publications, and national and international committee appointments to her credit. In addition to being a Fulbright Scholar, she is also a nationally recognized motivational speaker in leadership and STEM education communities.
In the Elsevier store, the book is available for $39.95/£24.95/€28.95
# # #
About Elsevier
Elsevier is a world-leading provider of scientific, technical and medical information products and services. The company works in partnership with the global science and health communities to publish more than 2,000 journals, including The Lancet and Cell, and close to 20,000 book titles, including major reference works from Mosby and Saunders. Elsevier's online solutions include SciVerse ScienceDirect, SciVerse Scopus, Reaxys, MD Consult and Nursing Consult, which enhance the productivity of science and health professionals, and the SciVal suite and MEDai's Pinpoint Review, which help research and health care institutions deliver better outcomes more cost-effectively.
A global business headquartered in Amsterdam, Elsevier employs 7,000 people worldwide. The company is part of Reed Elsevier Group PLC, a world-leading publisher and information provider, which is jointly owned by Reed Elsevier PLC and Reed Elsevier NV. The ticker symbols are REN (Euronext Amsterdam), REL (London Stock Exchange), RUK and ENL (New York Stock Exchange).