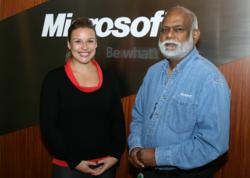 "The award of Silver competencies for SharePoint is a significant achievement that serves to distinguish [Ignition] from the field as experts in this important area." George Gobin, Microsoft's Country Manager, Bermuda
Bermuda (PRWEB) December 03, 2012
Ignition Ltd., a leader in off-shore IT services, announced it has achieved SharePoint Silver competencies, showcasing its ability to meet Microsoft's customers' evolving needs in today's dynamic business environment. With this status, Ignition is part of an elite group of Microsoft providers world-wide.
In order to achieve this level, Ignition has proved Microsoft technology success and customer commitment. This involved demonstrating expertise through rigorous exams culminating in Microsoft certifications, employing a team of highly skilled Microsoft Certified Professionals and providing numerous customer references for successful implementation and customer satisfaction.
Ignition, already a Server Platform Gold Partner, is one of the region's leading Microsoft partners providing a range of technology services, unique engagement models and scenario based solutions that suit the changing needs of companies. From Cloud adoption to on-premise solutions, Ignition's expertise in Microsoft technologies - Application Development, Business Integration and Portals and Collaboration - help clients of all shapes and sizes ensure they achieve the maximum value and return from their Microsoft investment.
As a Silver Microsoft Partner in SharePoint competencies, Ignition provides the expertise to help clients generate tangible business benefits from SharePoint technologies while ensuring a high level of compliance, reduced risk and greater productivity.
George Gobin, Microsoft Country Manager for Bermuda says "We are delighted to recognise the investment that Ignition has made in the region by training their consultants in SharePoint technologies. The award of Silver competencies for SharePoint is a significant achievement that serves to distinguish them from the field as experts in this important area."
Christopher Eaton, Director of Business Solutions of Ignition Group says "Achieving these Microsoft SharePoint competencies highlights our expertise in today's technology market and demonstrates our knowledge of Microsoft and its products. Our extensive experience in SharePoint helps companies large and small remain competitive and meet their business needs. Achieving these competencies is clear testament to our commitment in providing the best-in-class technology, service and experience to our clients."
Contact
For further information please contact
Stephanie MacDonald
Group Marketing Specialist
The Ignition Group of Technology Companies
Direct: 345-525-5771
Email: smacdonald(at)ignitionmsp(dot)com.
About Ignition
Ignition is an IT solutions organisation with clients in Europe, throughout the Caribbean, North America and Canada. Ignition has provided IT solutions to clients for over a decade. The Ignition Business Solutions practice includes Software Solutions based on Microsoft technologies (principally through the SharePoint platform), Practice Management solutions (based on the market-leading ViewPoint application), and Records Management services. Ignition is also one of the leading IT service providers offering managed services, cloud computing, business continuity and disaster recovery, data backup and storage, virtualisation and 24x7 service desk support. Ignition has offices located in Bermuda, Halifax and Cayman Islands with representative offices in Curacao, Bahamas, Jamaica and Trinidad. Visit http://www.ignitionmsp.com for more information.
###