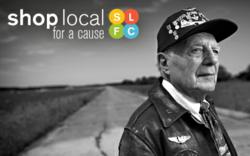 Los Angeles, CA (PRWEB) December 05, 2012
The NALA (http://www.theNALA.com), launched their first national Shop Local for a Cause event in August of this year. On the specific Shop Local for a Cause days, businesses throughout the country pledge their support by donating directly to the cause, passing out information on the cause and encouraging their customers to donate. Some of the businesses participating include Newtown Square Liberty in Newtown Square, PA, Zavos Hearing Aids and Audiology in Surprise, AZ, Monet Floors & Home Designs in Coeur d'Alene, ID and Ocean Chiropractic & Health Center in Fort Pierce, FL.
Shop Local for a Cause gives businesses an opportunity to offer big discounts for their customers on specific days throughout the year, while pledging their support for important causes on those special days. This is a chance for business owners to give back to the community with discounts and incentives, while bringing the community together for an important cause.
The co-sponsor for the event is The Greatest Generations Foundation(TGGF). 16,112,566 American veterans of the Second World War, fewer than 1.7 million remain alive. They are passing at the rate of 852 a day, or 35 an hour, or about one every two minutes.
Since 2004, TGGF has offered free journeys to former battle sites for World War II veterans. These voyages back to the battlefields can be emotional, reminding us all of the heartbreaking toll war takes on human lives. The journey provides veterans a measure of closure on their war experience, the chance to share in the gratitude for their service, and a venue to educate others.
Please visit Shop Local for a Cause to sign up to participate or to find local businesses participating December 6-8, 2012. TGGF also has a Text to Donate number; one can donate $10.00 to The Greatest Generations Foundation today, by texting TGGF to 20222.
About TGGF
The Greatest Generations Foundation is an IRS 501(C)(3) organization dedicated to honoring veterans of all conflicts by preserving the freedom for which they fought and the patriotism that they epitomized by perpetuating to other generations their stories of duty, honor, and sacrifice and their love of country through the avenue of youth education so that their greatness and our promise to 'Never Forget' engenders a more interconnected and harmonic world.
About NALA™
The NALA (National Association of Local Advertisers), a small business association, is for local business owners offering new online advertising & marketing tools, great business benefits, education and money-saving programs, as well as a charity program.
Contact: the NALA
Tiffani Tendell
805.650.6121
ttendell(at)thenala(dot)com