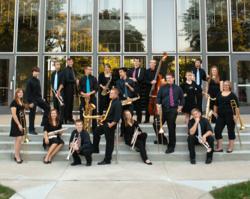 Seward, Neb. (PRWEB) December 04, 2012
Four of Concordia University, Nebraska's music ensembles will perform throughout the month of December. Jazz, classical and Christmas music will be shared through both vocal and instrumental concerts, all of which are free and open to the public.
The Concordia jazz choir, conducted by Professor of Music Dr. Kurt von Kampen, will join the jazz band, under the direction of Assistant Professor of Music Andrew Schultz, in concert on Friday, Dec. 14. The concert will begin at 7:30 p.m. in the Weller Hall auditorium.
The choir will perform "Charleston Alley" by Edgar Sampson, "Misty" by Erroll Garner and "The Girl from Ipanema" by Antonio Jobim, among others. The band's selections include "Love is Here to Stay" by George and Ira Gershwin, and "This Little Light of Mine" arranged by Andy Clark.
On Sunday, Dec. 16, the Concordia Handbell Choir and Handbell Choir II will give a joint concert at 3 p.m. in the Music Center's recital hall. Under the direction of Jessica Kite, adjunct instructor of music, both choirs will perform a variety of Christmas carols including "The First Noel" arranged by Cathy Moklebust, "God Rest Ye Merry, Gentlemen" arranged by Kevin McChesney and "Hark the Herald Angels Sing" by Felix Mendelssohn. Audience members will have the opportunity to try playing the bells after the performance.
The University Concert Band will perform Monday, Dec. 17, at 7 p.m. at St. John Lutheran Church in Seward. Under Schultz's direction, the program will include "Winter Rhapsody" by Ralph Ford, "It Came Upon the Midnight Clear" arranged by David Shaffer and "Ere the World Began to Be" set by Jack Stamp, among several other pieces.
Concordia University, Nebraska, founded in 1894, is a fully accredited, coeducational university located in Seward, Neb. that currently serves over 2,200 students. Concordia offers more than 50 professional and liberal arts programs in an excellent academic and Christ-centered community that equips men and women for lives of learning, service and leadership in the church and world. For more information, visit cune.edu.