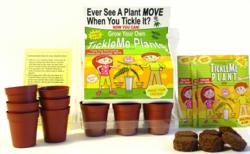 TickleMe Plant Kits are a fun,
and educational gift to excite kids about science and nature.
Pawling, N.Y. (PRWEB) December 05, 2012
From Entrepreneur.com 10 Gifts for Kids Made by Indie Merchants entrepreneur.com/slideshow/225002#5
As kids, Larry Chipkin of Pawling, N.Y., and his brother, Mark, would grow touch-sensitive plants (Latin name: mimosa pudica) whose leaves fold up when handled. Watch a video here (http://www.ticklemeplant.com) Growing such plants "was then, and still is, a magical experience" he says. When Mark retired from a job as a science teacher, they decided to create the TickleMe Plant Co., providing seeds and the perfect gift kits for anyone interested in growing the unusual plants from seed. "We don't want children and those young at heart, to lose 'touch' with our living world," he says. The editor of http://www.Entrepreneur.com says TickleMe Plant Kits are "The Perfect Gift for Someone Who Wants to Share their Love of Nature and Gardening with Kids"
Don't be surprised if after growing their own TickleMe Plants™, children become more aware of plants and excited about gardening. After all, it is the only plant that closes its leaves and lowers its branches when Tickled! Minutes later the leaves re-open.
TickleMe Plants™ are best grown year round as house plants and can be placed in a bright location outside during the warmer months. Bring them in before it gets cold, because they won't tolerate the frost.
TickleMe Plants™ can live for years and can grow several feet in height.
The scientific name for the TickleMe Plant™ is Mimosa pudica. It also has been called shy plant, sensitive plant and other names, throughout the world.
The TickleMe Plant Company offers seeds and complete growing kits and educational materials for children, adults, teachers and students (from 5-105 years of age). Teachers from kindergarten through graduate school have used TickleMe Plants™ for their botany lessons. Prices start at $5.50. TickleMe Plant Party Favors, The TickleMe Plant Book, and growing supplies are also available.
To learn more about growing TickleMe Plants™ or to order seeds or complete growing kits, go to http://www.TickleMePlant.com . Visit this website for a video of the Tickleme Plant™ in motion, free educational activities, a cartoon, and teacher developed lesson plan ideas. Seeds are 100% Guaranteed to Grow. Shipping is available nationwide.
TickleMe Plant growing kits also can be found in most science, nature and gardening catalogs, such Edmunds Scientifics ,the National Gardening Association's Catalog. as well as in select stores.
TickleMe Plants™ are great for science fair projects and holiday gifts, any time of the year!
Larry Chipkin is Co-Owner of the TickleMe Plant™ Company. Larry says, "My daughter Rebecca and I love our TickleMe Plants and want every child to have this positive growing experience.
For more information contact:
Larry Chipkin, TickleMe Plant Company, Inc. http://www.TickleMePlant.com Phone or Fax 845-350-4800 Larry(at)TickleMePlant(dot)com
###