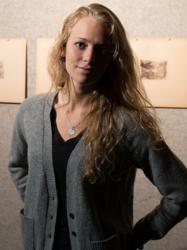 My hope is that they would consider the fragility of life and what it means to be created human.
Seward, Neb. (PRWEB) December 05, 2012
Senior art education major Anna Meyer's Bachelor of Fine Art thesis work is on display at Concordia University, Nebraska in the Marxhausen Gallery of Art until Dec. 17.
Meyer, a Seward native, says the show will contain large installation sculptures, large prints and a small collection of her printmaking work.
Meyer said that her experiences while off campus -- as a camp counselor, on mission trips and as while working at small art shops -- was especially helpful in shaping the collection.
"My conversations with people from all around the country, from all walks of faith and life have led me to create this body of work," Meyer said.
During the artist talk, Meyer spoke about her art career at Concordia, her inspiration and reasoning for creating the work on display.
The sculptures and prints in the show center on a Christian theme, particularly the conditions of sin and brokenness.
"I attempted to create a space for viewers to come and observe my artwork, in hopes that no matter what path they have walked or what led them to my show, that they would consider the fragility of life and what it means to be created human," said Meyer.
After graduation, Meyer hopes to teach art at the high school level or pursue her master's degree in printmaking at the University of Nebraska-Lincoln.
The exhibit is open to the public, free of charge. The Marxhausen Gallery is the on-campus exhibition space for Concordia and hosts a variety of exhibitions each year. It is located in Jesse Hall and is open Monday-Friday 11 a.m.-4 p.m. and Saturday and Sunday 1-4 p.m.
Concordia University, Nebraska, founded in 1894, is a fully accredited, coeducational university located in Seward, Neb. that currently serves over 2,200 students. Concordia offers more than 50 professional and liberal arts programs in an excellent academic and Christ-centered community that equips men and women for lives of learning, service and leadership in the church and world. For more information, visit cune.edu.