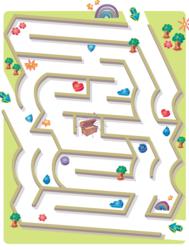 Knowing that they have an inner treasure chest...can help children thrive.
Sedona, Arizona (PRWEB) December 03, 2012
"Along with looking for material gifts, let's discover more about the gifts we already have within us," says self-worth expert, Charlene Costanzo. "Love, Hope, Joy. We're likely to see these words hundreds of times on ads, cards, billboards, and banners in stores this month. That's what this season is about, right? But how much focus and time is placed on appreciating these gifts?"
The bestselling author of The Twelve Gifts of Birth recommends getting the whole family into the spirit of finding and using life's intangible-yet-powerful gifts everyday.
"By taking a little time each day to 'play' with the words that represent our inner resources, we can help children in a way that will last a lifetime, says Charlene. "Knowing that they have an inner treasure chest filled with strength, beauty, courage, compassion, hope, joy, talent, imagination, reverence, wisdom, love, and faith can help children thrive."
Here are twelve possible ways to make appreciating these inner gifts fun. Try one or more:
1. Declare this a month of treasure hunting. Start with a treasure chest. Any shoebox or other container can be decorated and designated as the treasure chest. This box can be used to hold a variety of items that represent love, hope, joy, and other inner gifts.
2. Hunt for the words love, hope, and joy at home and everywhere you go. Encourage children to do the same. Make it a game of spotting the words.
3. Look for the real thing. Watch for actions that demonstrate the meaning behind each word. Encourage the children to be on the lookout, too. Whenever you see a situation that shows one of the gifts, on television or "live" in your home, say, "I see love," or "I see joy."
4. Claim your inner treasure. Expand the treasure hunting beyond love, hope, and joy to include strength, beauty, courage, compassion, talent, imagination, reverence, wisdom, and faith. For each person participating, download, print, and cut a set of Twelve Gifts Affirmation Cards. Have (or help) each child print "I have" above each gift word, such as "I have strength," enhance the cards with crayons or markers, and place each completed card in the treasure chest. Tell your child that you see each gift in him, and show this by giving an example, such as "I saw strength in you when you finished your chores even though you were getting tired," and "I saw strength in you when you told the truth and admitted that you hit your sister." Encourage a daily reading of the affirmation cards.
5. Find symbols for the treasure chest. You can either give the symbols yourself or have the children collect them by drawing and finding symbolic objects around the house and in nature. For example, a heart-shaped stone can be a symbol for love, a drawing of a rainbow can symbolize hope, and a sparkling ornament can represent joy. Let their creativity flow!
6. Stir love and compassion. Look through magazines and family photos to find people in situations that show emotions. Ask your child to get a sense of what the people in the photos are feeling. Explain that we all have the capacity to care about others. Then plan a simple gesture of loving kindness, such as bringing a flower or cookies to a house-bound neighbor.
7. Celebrate the gift of hope with a symbolic snack. Make from scratch or provide ready-made lemonade and pretzel twists. Explain that lemons are sour, yet from them we can make a delicious drink. Tell how the pretzel was invented when an enterprising monk had leftover bread dough. Remind them that hope is both wishing for things to be a certain way and making something good from whatever we have, like the sour lemons and bread dough represent.
8. Experience joy. Walk or drive through an area bright with holiday lighting. Tune in to the uplifted feelings being experienced by your child. This would be a time to declare, "I see joy!" and talk about how gratitude brings out joy.
9. Plan a special walk with your child. Make its purpose to find beauty in as many different ways as you can together. Without disturbing nature, select one or two objects to bring home for the treasure chest.
10. Play "Blind Reach with Courage." Prepare for this activity by selecting three or more safe objects for your child to identify without seeing them, such as a wet sponge, a piece of fruit, and an unusually-shaped toy. Without the child seeing, place one object into a bowl and cover with a dish towel. Have the child reach in, under the towel, without peaking, and identify the object. Do this with as many objects as you wish. Talk about how it sometimes takes courage to reach into the unknown. Share about a time that you used courage to go into an unknown situation. Ask your child to share about a time when he needed to use courage.
11. Print and use The Twelve Gifts Coloring Pages. Each coloring scene includes questions to help children identify how a particular gift is being used in the picture.
12. Read picture books. Look for one or more of the gifts in each story you read. Notice how a character is showing strength, acting with beauty, using hope and other gifts. For a list of suggested books that show each of the gifts, you can ask a librarian or a bookseller, search on-line, and see the book list provided by Charlene.
"Parents and teachers have come up with many marvelous ways to help children experience these gifts," says Charlene. "Tune in to imagination and wisdom in you and find more."
Charlene Costanzo has been speaking and writing about life's gifts since she published her award-winning, bestselling book, The Twelve Gifts of Birth in 1999. The Twelve Gifts collection has since grown to include: The Twelve Gifts for Healing, The Twelve Gifts in Marriage, The Thirteenth Gift, Touchstones: Stories for Living The Twelve Gifts, and daily inspirational emails. To learn more about Charlene Costanzo and The Twelve Gifts collection, please visit http://www.CharleneCostanzo.com and http://www.thetwelvegiftsofbirth.com.