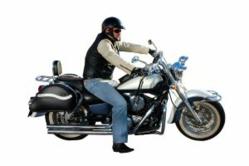 Motorcycle accident victims suffer physically, emotionally and financially.
Newport Beach, CA (PRWEB) December 02, 2012
A new study by the Government Accountability Office (GAO) shows that motorcyclists are more likely to die in an auto accident than drivers of any other passenger vehicle. According to a Nov. 27 news report in The Associated Press, the study also shows that direct costs from motorcycle injuries and fatalities added up to more than $16 billion, not adding long-term medical expenses, which officials said are "difficult to measure."
The report stated that in 2010, 82,000 motorcyclists were injured and 4,502 were killed. Also, while the average cost of a fatal crash was estimated at $1.2 million an injury crash could cost anywhere between $2,500 and $1.4 million depending on the severity of the injuries, the study estimated.
However, officials said it is difficult to give a better estimate because treating serious injuries often involve extended and costly treatments. The report also states that it is not possible to measure non-economic impacts such as changes in employment and quality of life issues. The article states that four states including California this year considered proposals to repeal mandatory helmet laws.
These newly released statistics are a reminder of the devastation caused by motorcycle accidents, says John Bisnar, founder of the Bisnar | Chase personal injury law firm. "As mentioned in this study, motorcycle accident victims suffer physically, emotionally and financially. There is often uncertainty about how long the recovery might take or what the long-term expenses may be."
That is why it is critical that victims of motorcycle accidents protect their legal rights, Bisnar said. "Seeking prompt medical attention is crucial for anyone who has suffered injuries in a motorcycle accident. It is also important that victims keep track of their expenses and losses and seek out quality legal representation in order to better understand their rights and options."
About Bisnar | Chase
The California motorcycle accident attorneys at Bisnar | Chase represent victims of motorcycle accident and other serious personal injuries. The firm has been featured on a number of popular media outlets including Newsweek, Fox, NBC, and ABC and is known for its passionate pursuit of results for their clients. Since 1978, Bisnar | Chase has recovered millions of dollars for victims of serious personal injuries and their families.
For more information, please call 800-561-4887 or visit http://www.bestattorney.com for a free consultation.
Sources: http://www.sfgate.com/business/article/Motorcycle-deaths-injuries-cost-16-billion-4070661.php
Government Accountability Office report http://gao.gov/products/GAO-13-42