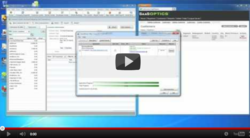 Norcross, GA (PRWEB) December 04, 2012
"Our early customer adoption program for RevenueBooks for the QuickBooks 2013 suite of products is now complete, and we are happy to announce formal support for use of RevenueBooks to integrate SaaSOptics with QuickBooks 2013 Pro, Premiere and Enterprise, for the US, Canadian, and UK versions of QuickBooks," stated David Ryan, CEO, SaaSOptics.
Added Clayton Whitfield, Chief Technology Officer, "While there were many changes to the QuickBooks user experience in the 2013 versions, there were no changes to the functionality that QuickBooks provides for the revenue recognition and revenue management needed by recurring revenue businesses. The only real revenue management and subscription invoicing solution for early stage SaaS and other recurring revenue businesses remains SaaSOptics and QuickBooks working through RevenueBooks as a unified integrated solution. Along with this certification, we have also enhanced the subscription invoicing engine in SaaSOptics. Our subscription billing engine is now more configurable, with many more invoicing options and features."
Continued David Ryan, "Using SaaSOptics to generate recurring subscription invoices saves our customers enormous time because it is dramatically more efficient than all the common methods employed, such as relying on QuickBooks memorized transactions. With our subscription invoicing engine, you can actually build out monthly, quarterly, annual and other complex billing schedules for each customer. SaaSOptics actually generates the invoice data at the time you develop the schedules, but only synchronizes invoices to QuickBooks when the invoice dates arrive. While QuickBooks always reflects accurate AR, SaaSOptics contains a complete list of future invoices, and therefor can be used for incredibly accurate cash flow forecasts. And of course, SaaSOptics generates accurate revenue and deferred revenue records for GAAP compliant financials."
You can learn more by visiting http://www.saasoptics.com.
About SaaSOptics
SaaSOptics provides financial management and business intelligence tools for SaaS, software, and other recurring revenue businesses. SaaSOptics ensures your team has accurate revenue information and access to the correct targets, results, and projections, including churn, mrr, renewal rates, bookings, and countless other metrics needed to manage a subscription business. SaaSOptics is delivered as a SaaS solution. SaaSOptics is a private, Atlanta-based company. Visit us at http://www.saasoptics.com or call 678.710.8262.