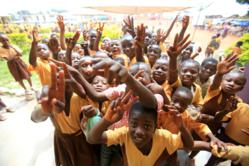 "It's not just about the patients you treat, but the lives that you touched." Dr.
Esther Mark
Irvine, Calif. (PRWEB) December 03, 2012
There are a number of excellent programs and organizations that provide volunteer health services in third-world countries. In contrast, oral health is a highly underserved area of care offered by such organizations. The Smiles for Everyone Foundation ("SFE Foundation"), a non-profit public charity affiliated with Smile Brands Inc. ("Smile Brands"), is seeking to change that. A team of dentists and volunteers is unpacking from a recent international philanthropic trip bringing much needed dental care, knowledge and supplies to impoverished areas near Kumasi, Ghana. Smile Brands initiated the International Smile Project in December of 2011 with a trip to Paraguay, followed by a similar journey to Thailand in May of 2012. The SFE Foundation continued the charitable work that Smile Brands began last year through this trip to Ghana.
For a period of six days in early November, a team of volunteers, including Smile Brands employees, and dentists from Smile Brands' affiliated Bright Now!® Dental, Monarch Dental®, and Castle Dental® offices, provided dental services to 902 people in the communities of the Ahanti Region where access to dental care is sparse.
"That was an incredible trip," says volunteer dentist, Dr. Imad Nouneh. "Before going on this trip, I expected to see underserved people with some dental need. I did not expect to see a group of people who had never seen or known a dentist. The need was great, but we were able to treat most of the kids we met. Everyone was extremely nice and appreciative which made up for the difficult conditions we faced. I made great new friends and I have a greater appreciation for all the things we take for granted."
Among the team of volunteers who joined SFE Foundation CEO Steve Bilt and Dr. Imad Nouneh on this trip were dentists Dr. Leng Haong, Dr. Robert Crim, Dr. Kenny Duff, Dr. Timothy Mathis and Dr. Karol Brown, and Smile Brands employees Sara Allsop, Fred Ward, Jamie Viramontes, Liam Kelly, and Tracy Coleman.
As another participant, Dr. Leng Haong, noted, "One person that personally affected me was Dr. Esther Mark, the local dentist that worked alongside us. Working with her, I could tell that she had a deep passion for what she was doing and truly cared about her country and its people. She told me, 'It's not just about the patients you treat, but the lives that you touched,' and that really made me pause and just think about what an amazing thing it was that we were doing."
A film crew from Video Resources Inc. volunteered their time and resources to travel with the team to capture video and still footage documenting the experience, which will be used as educational material for future trips. Some still photos from the trip are available, and a video will be posted shortly as well.
In addition to running temporary dental clinics, the Ghana team worked to create a sustainable service model that will allow for the SFE Foundation's locally sponsored teams to continue this care, and will be replicated in more communities throughout the world on subsequent international smile project trips. They left behind dental equipment and exposed local dentists to advanced training to ensure they can continue to provide superior care to their local communities now that the volunteers have returned home.
To watch the Paraguay and Thailand teams in action during their International Smile Project trips, visit http://www.smilebrands.com/press/smile-brands-news/delivering-smiles-everyone-paraguay.
About Smile Brands Inc.
Smile Brands Inc. is one of the largest providers of support services to dental groups in the United States based on the number of dental offices. Smile Brands Inc. provides comprehensive business support services so dentists can spend more time caring for their patients and less time on the administrative, marketing and financial aspects of operating a dental practice. Smile Brands Inc. services support more than 1,300 dentists and hygienists practicing in over 360 Bright Now! ® Dental, Monarch Dental®, and Castle Dental® offices in 18 states.
Nearly three quarters of a million people a year take advantage of extended evening and weekend office hours, convenient locations, affordable prices, and flexible payment plans for quality, full-service dental care including general and cosmetic dentistry, and specialty services such as orthodontics at affiliated Smile Brands' offices.
Based in Irvine, Calif., Smile Brands Inc. and its affiliated dental offices combined employ approximately 4,600 people nationwide. For more information, visit http://www.smilebrands.com.