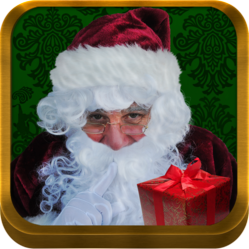 Belfast, Maine (PRWEB) December 21, 2012
Santa Cam, from Maine Developer Angelsong Creations, LLC, makes it easy to create photographic proof of Santa's visit to your home. Did Santa really come to visit? Was there a reindeer on the roof? Now parents can show their children a picture of Rudolph looking in a bedroom window or of Santa decorating their tree, carrying his sack of toys through the kitchen or taking a short nap on the couch. Do elves really help Santa? With this app, it is easy to add a Christmas Elf sleeping or reading to any photo.
The process starts with a photo of a room, a window or a doorway. App users then choose the Santa or other accessory that they want to add to the photo and adjust the size and orientation of the accessories using their fingers. Available images include Santa in a multitude of positions, reindeer, a Christmas elf and Christmas decorations. If Santa has something to say, the app has text bubbles and there's a drawing tool to write in a few words, stars or other accent.
When the holiday image is complete, owners have several options. They can save it to their camera roll, email it to a friend, share it on Facebook, Flickr, Twitter or Instagram or post it as a meme to Pinterest. The app includes one touch upload to Shutterfly where users can turn the photos into holiday cards, invitations or unique gifts.
"We wanted to create a series of apps that would make Christmas really fun for people" explains Angelsong co-owner Amy Robbins-Wilson. "We hope that families will have a lot of fun with our apps and that they will add some smiles, laughter and wonder to the Christmas season." .
For more information on SantaCam go to http://www.SantaCamApp.com. The basic app is free and is available from iTunes, Amazon and Google Play.