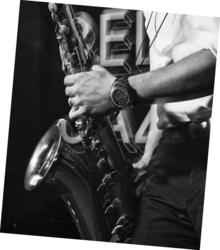 Norwalk, CT (PRWEB) December 01, 2012
Fifteen years ago, Paul Marciano, visionary founder of the GUESS fashion empire, decided to create a Swiss Made brand of fine quality and striking European design accessible to consumers looking for design, quality, and value: SMART LUXURY®.
The Gc brand was launched in 1997, and this year at Baselworld 2012, Gc celebrated its 15th Anniversary with the launch of a new advertising campaign in black and white imagery - exemplifying the very essence of the brand and the philosophy of its founder.
Over its 15 year history, guided by its Smart Luxury positioning, Gc is now well established as one of the top ten international Swiss Made watch brands in terms of units sold each year. It is distributed in 5000 points of sale in 70 countries worldwide, and boasts its own individual network of over 30 Boutiques in major cities across the globe.
The new campaign will launch exclusively in the December 2012 issue of the Wall Street Journal Magazine. Rolling out worldwide in 2013, the campaign illustrates the parallels of passionate entrepreneurs in search of their own Smart Luxury® Moments while choosing a Gc timepiece that expresses their individual personality.
Behind the camera, the man capturing these Smart Luxury® Moments on black and white film, is Pino Gomes - a talented young Brazilian born photographer living and working in the USA and Switzerland. Pursuing his own Smart Luxury® dream, Pino travels the globe and shares with us, the moments of these dynamic international individuals working to achieve their professional goals.
The tagline of the new watch campaign underscores the importance of the photographic imagery -
Gc SMART LUXURY®
Timeless – Passionate - Swiss-Made
Pino Gomes
Based between New York and Zurich, Brazilian-born Pino Gomes is a rising star in the international photography world, undertaking both editorial and commercial assignments, including major names in the fashion industry. Chosen for his highly emotive style and expressive images full of contrast and sharpness, Pino is now proud to represent the Gc watch brand for their Moments of Smart Luxury® concept around the globe.
About Gc Timepieces:
Gc is a Swiss Made statement brand whose signature "Smart Luxury" stands for the brand's commitment to provide quality Swiss Made timepieces and luxury products for men and women through the choice of their materials and design, all at a surprisingly accessible price point. Gc watches are produced and distributed by Sequel AG, a Timex Group company. Founded in 2007, Sequel AG, is a Swiss company headquartered in Zug, Switzerland, with satellite offices in London, Paris, Hong Kong, Toronto and Norwalk, Connecticut. Sequel AG is a member of the Federation of the Swiss Watch Industry FH. A 15-year licensing agreement gives Sequel AG the exclusive distribution rights for Gc watches worldwide. Sequel AG distributes Gc Watches in over 70 countries worldwide through a network of 60 distributors and 5,000 retail outlets, including Gc boutiques.