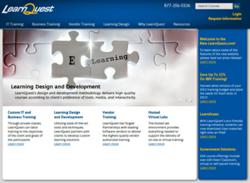 We've designed our new website to create a better user experience for our customers.
(PRWEB) December 04, 2012
LearnQuest is pleased to announce the launch of its brand-new website. This website offers a significant enhancement to the prior version, featuring improvements in user navigation and search functionality in addition to a more modern and streamlined look and feel.
LearnQuest's redesigned website is well-organized, user-friendly, and equipped to assist clients in locating the most appropriate training solution from services, such as public and private instructor-led classes, self-paced courses, vendor authorized training, hosted labs, or even a completely customized learning design solution. Whether visitors are interested in business analyst training, project management training or one of the more technical courses - with their new website, LearnQuest is striving to help people find what they're looking for faster, and with more detail than ever before.
The website now features a new dropdown navigation style for easy access to popular training topic areas, as well as a better organized site structure overall. LearnQuest has increased searching capabilities by adding an advanced search results feature, which lets users select from such options as category, format, timeframe, and if the class is guaranteed to run, thereby allowing for more accurate and personalized search results. Course detail pages now feature an easy-to-use tab system that grants users convenient access to the course description, audience, and topics, as well as related materials, courses, and testimonials.
The new and improved student and client login gives students convenient access to schedules, class history, evaluations, and customizable client training portals.
"We've designed our new website to create a better user experience for our customers. Our goal was to make our large catalog of courses easy to navigate, while updating the look, feel, marketing messaging and browsing experience. I am very proud of the end product and feel that our goals have been accomplished," says Vice President of LearnQuest Dimitri Schneiberg.
Visit LearnQuest's new IT training website.