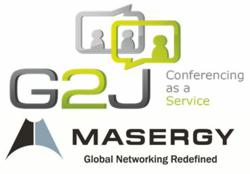 When our customers are expecting G2J to deliver the best quality their Videoconferencing, there's no room for error. We have to provide high performance, high availability and resilience".
Miami, FL & Paris, France (PRWEB) December 17, 2012
G2J, a leading Wholesaler Cloud Videoconferencing & Telepresence Management Solutions, announced its partnership with Masergy, a global provider of managed, network and cloud communication services, to provide enterprise customers a global video network platform with QoS & unparalleled global connectivity.
With a global Channel Partners base in North America, Europe, Caribbean & AsiaPac, G2J's resellers & their customers have a critical need for a high performance global video network that offers fully secure and reliable connectivity. All our Videoconferencing Managed Solutions have to be available 24*7 with the highest QoS.
G2J's Core Services are MyEasyConnection™, Cloud Based HD Videoconferencing & Telepresence Managed Solutions, & MyEasyVision™, SaaS & Cloud Based Video User Management Interface available on any Browsers, iOS Devices, iPad & iPhone.
G2J's solutions are fully hardware-agnostic (e.g., the video equipment may be manufactured by Cisco, Polycom, LifeSize, Starleaf, Sony or others) and network-neutral, supporting all recognized video standards across any IP network, SIP or ISDN. With its carrier-grade, multi-tenant MyEasyConnection™ platform built in-house, G2J provides a range of remote monitoring and management services that increase the utilization of the video deployment by ensuring all systems are on, all the time, and calls start on time with the highest possible quality.
Masergy's global network services are specifically tailored to support the strict performance and security requirements of global organizations for video communications.
"We needed a strong partner that would deliver real quality of service for our Cloud Video Solutions, so technical expertise and a proven infrastructure were an essential requirement," said Geoffrey Vande Weerdt, Head of The Americas & Global Alliances, at G2J. "When our customers are expecting G2J to deliver the best quality for their visual communications, there's no room for error. We have to provide high performance, high availability and resilience, hence our decision to partner with Masergy as our preferred global networking partner."
About G2J - http://www.g2j.com
G2J is a Global Wholesaler delivering Cloud Video management Solutions worldwide with 8 offices on 4 continents. G2J provide State-of-the-Art SaaS & Cloud Video Managed services that enable organizations of all sizes, including Fortune 1000, to communicate more efficiently using customizable, cost efficient & easy to use solutions.
About Masergy - http://www.masergy.com
Masergy provides managed, secure global network and cloud communications services to enterprises needs across multiple locations. Masergy's integrated network and software solutions enable customers to seamlessly deploy and manage unified communications on a global basis.
Serving customers throughout the Americas, Europe, Asia, Africa and Australia, Masergy leverages advanced transport technologies to deliver global Ethernet services across a native MPLS network. The company pioneered the delivery of multiple services over a single network connection and offers customers its award-winning cloud-based portal with dynamic bandwidth elasticity and deep network forensics.
Masergy clients include global enterprises in a wide range of industries, including the financial/banking, energy, professional services, healthcare, entertainment, broadcasting, high technology and global manufacturing sectors.
Contact G2J US, Inc
Geoffrey Vande Weerdt
Head of The Americas & Global Alliances
Tel: +1 (888) 832 7982
Email: america (at) g2j (dot) com
Contact Masergy
Jeff Green
Michael Burns & Associates
Tel: +1 (214) 521 8596 x238
Email: greenj (at) mbapr (dot) com