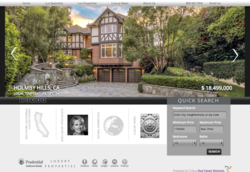 "We found only one company that could meet all of our needs, and that was Tribus. They assisted us in achieving all of our goals with LuxSoCal.com." - David M. Cabot, Prudential California Realty president
Newport Beach, CA (PRWEB) December 03, 2012
Tribus, a leading real estate website and technology provider, recently added Berkshire Hathaway owned Prudential California Realty - LuxSoCal.com to the portfolio of clients it has created and launched websites for. The newly designed website serves as the luxury face of Prudential California Realty and its over 2,500 real estate agents.
Given that the luxury marketplace and consumer demands vary from traditional real estate, Tribus' goal was to create a website that not only offered aesthetic appeal, but also robust search functionality, lead generation, search engine optimization (SEO), and an intuitive design for users.
"Often, luxury real estate agents and brokerages become obsessed with how a website looks and forget about the importance of usability and functionality for the client," explains Eric Stegemann, Director of Strategy at Tribus.
Stegemann went on to explain how Tribus overcame this when creating LuxSoCal.com: "While affluent real estate consumers appreciate a clean and refined look, they also want the ability to search for homes in a way that is natural and easy. We created a website that merged beauty and functionality, allowing Prudential California Realty to service potential clients in optimal fashion."
LuxSoCal.com allows consumers to search for California luxury homes for sale, connect with luxury real estate specialists, stay in touch with the latest luxury lifestyle and real estate news, and more.
In addition to a clean and intuitive user interface, the website's back-end was established to support incoming leads and provide Prudential California Realty with the ability to easily distribute the leads to its agents.
"We wanted a website that illustrated our local, luxury expertise and affluent global connections to potential clients, while still giving users the power to search for luxury homes and locate an agent in the most seamless way possible. Tribus was able to assist us in making this possible," explains Leeann Iacino, COO for Prudential California Realty.
David M. Cabot, Prudential California Realty president, reiterated the positive sentiment. "We found only one company that could meet all of our needs for LuxSoCal.com, and that was Tribus."
Cabot further commented on Tribus' ability to offer support with a moment's notice. "We needed a change just hours before the site was shown to our luxury agents, and the Tribus staff had a game plan in place that the agents loved, with time to spare."
Although LuxSoCal.com has only been live for a short time, Prudential California Realty expressed that agents and past, current, and potential clients have already praised the look, feel, and functionality of the new website.
With the addition of Prudential California Realty, Tribus' network now represents more than 5,000 Realtors® across the United States and Canada.
______________________________________________________________________
About Tribus:
Tribus is a leading real estate website and technology company that specializes in offering agent and brokerage solutions based around a seamless and integrated approach, including semi-custom and custom websites, customer relationship management, lead generation, lead routing and management, voice systems, and search engine marketing services. Since 2009, Tribus has successfully assisted over 5,000 agents and brokerages in creating and deploying websites with robust back-end systems and support.
About Prudential California Realty:
Prudential California Realty possesses nearly 3,000 sales associates in 60 offices throughout Southern California and the Central Coast area. In 2011, Prudential California Realty represented nearly $9 billion in sales. A member of HomeServices of America, Inc., Prudential California Realty recently became a Berkshire Hathaway affiliate. In 2011, HomeServices of America, Inc. represented nearly $32 billion in residential sales and 115,000 transactions.