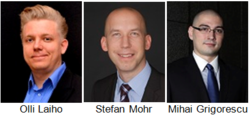 Boulder, Colorado (PRWEB) December 05, 2012
Vivit, the independent, worldwide HP Software user community, announces the 2012 EMEA award winners. The Vivit Board of Directors presented the Leader the Year Award to Olli Laiho, the Champion of the Year Award to Stefan Mohr, and the Speaker of the Year Award to Mihai Grigorescu. The award presentations were held at a special dinner for Vivit EMEA leaders in Frankfurt, Germany on December 3, 2012.
Customer and partner volunteers with expertise in HP Software products and solutions, or simply a drive to get users together to share best practices, create networking, educational, and advocacy opportunities for fellow members. The EMEA Awards are presented each year to member-nominated volunteers from the EMEA regions who have demonstrated excellence and outstanding service.
Olli Laiho, 2012 Leader of the Year, was recognized for his outstanding leadership for the online Testing, Quality and Application Lifecycle Management (TQA) Special Interest Group. He is a qualified expert on HP's Application Lifecycle Management (ALM) and Quality Center products and a Quality Assurance specialist. He is also driving the value of utilizing Business Intelligence tools in Quality Assurance and Testing to improve the output and performance of Quality Assurance organizations worldwide. He has helped lead the TQA Special Interest Group for four years, adding blogs, tips and tricks, and webinars for members around the world. Olli is a frequent speaker and roundtable leader at the international HP Discover conferences and an instructor for Vivit Advanced Training, focusing on HP ALM and Quality Center. Olli works as a Senior QA Consultant for Assure "The QC Guys" in Finland.
Stefan Mohr, 2012 Champion of the Year, was recognized for his outstanding effort to advance and grow the community. Stefan has been a Vivit member and Chapter leader for five years and has helped to organize the two-day German User Group Meetings for more than seven years. He was the 2009 Leader of the Year Award winner, and because of the expansive community he has built throughout Germany and the outpouring of member nominations, Vivit is awarding him with Champion of the Year. Stefan is the Consulting Manager and a Principal Consultant for the ITC GmbH in Germany. Stefan has more than 15 years experience in implementing, customizing, training and selling of HP Software products and ITSM Consulting. As a certified ITIL Service Manager, he focuses on integrated ITSM solutions for enterprise and SMB customers based on HP Software and 3rd party products.
Mihai Grigorescu, 2012 Speaker of the Year, is co-leader for the South Africa Chapter, and was recognized for a series of outstanding webinar presentations for members on best practices and real life practical usage of HP ALM. Mihai is also leading several roundtables at the HP Discover conference in Frankfurt, Germany, December 4-6. He has been in the software testing industry for over 5 years and is now the TCoE Tools Lead at Accenture in South Africa. He has a passion for testing in general and for business as well as technical processes. He is an avid fan of making optimal use of available tools and processes which assist the overall testing efforts and projects. He is also currently a board member of the SIGiST committee (Special Interest Group in Software Testing for South Africa) and is an active speaker in national and international events.
Share This Story Via Twitter: #Vivit EMEA Award Winners for #HPSoftware #HPDiscover.
About Vivit
Vivit is a non-profit corporation founded in 1993 (as OpenView Forum) by customers of Hewlett-Packard's Software products to represent the interests of HP Software customers, developers, and partners worldwide. Vivit represents and serves the broad HP Software and Solutions Community (including OpenView, Mercury, Peregrine, Radia, and more) and is the endorsed HP Software users group. Vivit currently has members all over the world representing all areas of business and industry.