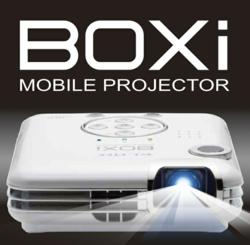 "Today's professionals are constantly on-the-go and looking for products which complement their mobile lifestyle. Our new product, The ELMO BOXi, affords these professionals mobility without sacrificing productivity"
Plainview, NY (PRWEB) December 03, 2012
ELMO USA Corp., leaders in business, education and legal technology for more than 90 years, is proud to introduce a visual presentation solution for professionals on the go. With BOXi, ELMO adds a brand new device to its already extensive line of advanced presentation technology. BOXi is a versatile mobile projector designed for an extensive range of personal and business applications. Successfully combining function with style, BOXi becomes one of the most attractive and highest quality mobile projectors currently on the market.
Smaller than a lunchbox and weighing only 1.3 pounds, BOXi is ideal for today's mobile professional. BOXi's shortest throw in its class provides convenient access to a high quality projection in almost any situation. BOXi's specially developed LED optical engine produces true color reproduction in 1080p, creating a superior viewing experience for presentations as well as fast moving video.
"Today's professionals are constantly on-the-go and looking for products which complement their mobile lifestyle. Our new product, The ELMO BOXi, affords these professionals mobility without sacrificing productivity" says Matt Takekoshi, President of ELMO USA Corp.
BOXi is designed to work harmoniously with a wide array of mobile devices including the iPhone and iPad. Users of iOS products can download the BOXi Air app for free in the Apple App store and use BOXi as a wireless display for their iOS devices. An Android App is currently in development and expected to be released in the near future. Traditional HDMI and VGA inputs are also available as well as the ability to display a wide variety of movie, photo and document files without a computer via BOXi's USB input.
ELMO USA looks forward to introducing BOXi during the 2013 International CES next month in Las Vegas, NV. Located in booth 36609 in the South Hall of the LVCC, ELMO USA Corp. is thrilled to mark their first time exhibiting at CES with BOXi's upcoming launch.
About ELMO USA
ELMO USA Corp. has been a leader in education technology for more than 90 years. The company's cutting-edge innovations are shaping the future of visual communications. Foremost among these innovations are teaching tools for dynamic classroom presentations. ELMO's groundbreaking document cameras and visual presenters benefit students by enabling instructors to incorporate stimulating high-resolution visuals into their lesson plans. These value-priced, full-featured teaching tools offer a level of interactivity and spontaneity that static transparencies or "one-dimensional, pre-planned" laptop and desktop computer lessons simply do not. For more information about ELMO's educational products, visit http://www.elmousa.com or call 1.800.947.ELMO.