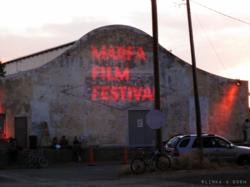 The most unique film festival in the world.
-John Paul DeJoria
Marfa, Texas (PRWEB) December 04, 2012
In its first three years of existence the Marfa Film Festival was tagged in international press as an up-and-coming destination film festival and a serious contender on the US film festival circuit. Regarded as one of the "top 25 festivals worth-the-fee," by MovieMaker Magazine and hailed as "the best little festival," by the LA Weekly, it was quickly compared to the early incarnations of Sundance and Telluride. Many of the Marfa Film Festival's selections went on to win major awards and distribution deals, making the notably selective programming that much more impressive.
Debuting in 2008 the festival opened on an early spring night, shuttling 400 guests 20 miles outside of Marfa to the private ranch that was the setting for Paul Thomas Anderson's "There Will Be Blood." The screening of this Oscar-winning epic was held on the set of "Little Boston," and among many of its cast, crew and extras who had yet to see the film. This screening was followed by the first-ever public performance of the now popular Edward Sharpe and The Magnetic Zeros delivering one of the most jaw-dropping moments in off-the-cuff musical performances in recent memory. The LA-based band was inspired to travel to the Marfa Film Festival to celebrate the world premiere of Grace Woodroofe's cover of Bowie's "Quicksand," directed by the late Heath Ledger (Ledger, having wanted to attended, tragically passed away just months before).
Marfa, Texas (pop. 2000) is a desert oasis sitting at an elevation roughly one mile above sea level - it's deceptively cool during summer nights and is strikingly sophisticated under the dust, tumbleweeds and desert sun. The town has been a destination among tastemakers and art aficionados since Donald Judd drew recognition to the sparse yet inspiring landscape with his magnificent installations that are now managed by the Chinati and Judd Foundation. Marfa's mystique and artistic community has inspired provocative articles in the New York Times, The New Yorker, Vanity Fair and recently 60 Minutes which will televise a special interest piece about the town in a an upcoming program.
It's been said that Marfa, Texas is a compelling juxtaposition, an engaging experience for the senses that mixes high art and beat-up pickup trucks in one fluid sweep of the eye. The same can be said for Marfa Film Festival. From vintage inspired lounges peppered with otherworldly artifacts to its pop-up pre-screening musical performances by Lazaro Valente, from outdoor movie screenings under a blanket of desert stars to drawing out reclusive legends like Larry McMurtry and Lou Reed, this film festival is special in every sense of the word. In a recent statement, avid supporter John Paul DeJoria called Marfa Film Festival, "the most unique festival in the world."
And as overheard at the festival launch party in October, "Marfa Film Festival invites you to the now!" The festival holds strong to its humble grassroots foundation by showcasing up-and-coming filmmakers alongside seasoned veterans in a creative environment that promotes the art of filmmaking and the beauty of individuality. All of this without competition or judgment—there are no prizes to be won here. It's truly a celebration of filmmakers. And for 2013, festival organizers promise all the magic of years past plus more than one's imagination can conceive. Visit the official website for early bird festival passes available through January 15th, 2013 and for information about film submissions. http://www.marfafilmfestival.com. Follow the developing story on Facebook and Twitter. - /marfafilfestival @MarfaFilmFest