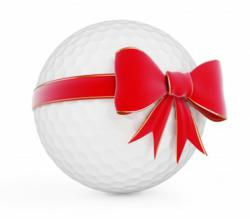 Customers want assurance that what they purchase will deliver on the promises to affordably help them with their golf swing, and are easy to apply and remove. We have responded to satisfy golfer's needs with a series of additional steps
Los Angeles, CA (PRWEB) December 04, 2012
In time for the holiday season 1SwingThought.com took several steps to deliver on its core mission of lowering golfer handicaps while giving back.
First, the swing thought reminder appliqué company listened to results of surveys from golfers on its website and blog, 1Swingthought.blogspot.com.
According to CEO Bryon K. Smith, "Golfers want assurance that what they purchase will deliver on the promise to affordably help them with improving their golf swing, and is easy to apply and remove. We have responded to satisfy golfer's needs with a series of additional steps during the holidays."
Second, they revised the website by placing the Golf Digest and IGR.com (Independent Golf Review) articles in prominent positions alongside customer testimonials and reviews. Additionally, they categorized products by popular golfer goals of adding more distance, curing slicing, increasing accuracy, breaking 100,breaking 90 and breaking 80, Third, the company lowered prices 25% for all appliqués.
Fourth, they created bundled offering around for the same popular golfer goals and lowered the bundled product prices by an additional 25%.
Fifth, 1SwingThought.com added free shipping through December 25th.
Lastly, they created a page demonstrating how easy it is to apply and remove the appliqués.
1SwingThought.com also provides a gift certificate option to enable the recipient to select the bundle that is right for them and all products include the "30 Day Guarantee- Play Better Golf or Don't Pay."
Smith says, "This is a great gift for golfers that is affordable, easy to ship or include with a holiday card. Golfers will be eternally grateful for a gift that can help improve their swing and enjoyment of golf."
About 1SwingThought.com
A BILMBA Marketing & Associates owned and operated site with a patent pending line of golf lesson and swing thought stickers, located in Los Angeles CA. 1SwingThought.com sells high quality vinyl swing thought and image appliqués, developed with golfers and professional golf teachers, that are water resistant, sun resistant, removable and USGA compliant.
http://www.1Swingthought.com
Contact: Bryon K. Smith
818.275.1114