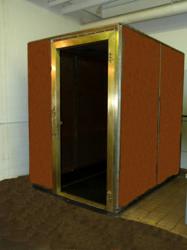 "It is exciting to be able to offer another testing method for our customers that may cut costs for them due to unexpected disturbances"
Rochester, NY (PRWEB) December 03, 2012
Pyragon, Inc. a Rochester, New York based company has recently added a RF Screen Room for the ability to test for the effect of RF on specific models it manufactures. This gives Pyragon customers the information needed to choose the correct model needed for their operation the first time without encountering unforeseen technical issues that would have been known if tested appropriately.
This adds to the existing testing capabilities currently utilized by Pyragon, Inc. These are Electrical Transients which test the operation of equipment in situations that mimic large voltage surges and spikes caused by electrical storms or major power switching events that can occur within large scale plants, such as a power generation facility. Electro Static Discharge, which is a test designed to test equipment that may be subjected to static discharges brought about by events such as human touching or other process related routines. Thermal aging, which is the ability to test a piece of equipment using a 15 to 30 day test based upon variable temperature and humidity conditions. This simulates long term aging. Finally, Mean Time Between Failure Analysis or MTBF can be done on equipment that Pyragon manufactures. This typically gives a better, more accurate result than software MTBF calculations where the software does not have any knowledge of the design of the circuit being analyzed and does not take into account the criticality of a given component.
"With this new testing device we are able to give customers a more accurate answer when it comes to what may or may not effect the processes in their facility" said Thomas Crumlish the President of Pyragon. "It is exciting to be able to offer another testing method for our customers that may cut costs for them due to unexpected disturbances" said Crumlish.
Pyragon, Inc. has been operating since 1996 it is a high quality manufacturer of industrial temperature transmitters, signal isolators, signal conditioners, alarm trip and custom OEM designs. Depending on customer needs the company offers off the shelf stock and custom designed products. More information on these products and others can be viewed at http://www.pyragon.com.