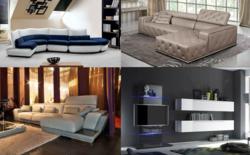 Modern living room by MIG Furniture
Brooklyn, NY (PRWEB) December 02, 2012
On Friday, November 30 2012, at the its headquarters' showroom, MIG Furniture Design presented a new line of modern furniture for living room from their new, 2013 collection. Incredible shapes, colors and designs appear quite eye-catching and most certainly are different from the ordinary furniture store assortment. You will be struck by incredible work of designers, who tried very hard to turn every square inch of this showroom into a finely decorated interior, which conveys the warmth of home comfort that will hold your furniture in real life.
This line of furniture includes sofas, sectional sofas, sofa beds for any taste and budget. A good amount of attention is focused on the European style sleeper sofas with various mechanisms of transformation, comfortable seating as well as for everyday sleeping. Sofas of this style can be converted into a luxury bed in seconds and also have a place to store your linens. These sofas are very useful if you live in a small studio apartment, but can also be applied in offices.
The new Collection also provided a huge selection of modern coffee tables made of glass,wood, natural veneer and lacquer of various colors.
A significant part of the new Collection is a great line of TV stands, wall under the TV and entertainment centers. This modular system allows to create and transform the most daring design ideas. Set of colors and units in the modular systems counts hundreds, using such systems is almost impossible not to find the right size, color or price to satisfy the most demanding customers.
It is important to emphasize on the amount of an effort that designers put into this splendor of modern furniture. Each living room was so warm and cozy decorated that really did not want to leave it. The exhibition will run for another week at MIG Furniture Design showroom.