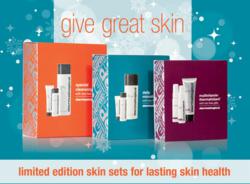 These Dermalogica gift sets combine award-winning favourites with free gifts that are sure to thrill!
Birmingham (PRWEB) December 02, 2012
The three gift collections: Clean and Smooth, Smooth and Renew, and Smooth and Firm, each have their own unique approach to long-lasting skin health.
These sets combine award-winning favourites with free gifts that are sure to thrill. Both Dermalogica fans and those not yet acquainted with the world's leading professional skin care brand will appreciate having toned, vibrant and supple skin again this holiday season!
Clean and Smooth, with its 250 ml Cleansing Gel, free Pre-Cleanse and Skin Prep travel sizes, is especially developed to make skin ultra-clean and baby soft… and primed for the prescribed toner or moisturiser. Smooth and Renew's Daily Microfoliant, with free travel sizes of the Gentle Cream Exfoliant and Pre-Cleanse, deep-cleanses, plumps and revitalises. Finally, the Smooth and Firm will renew skin's resilience and provide a powerhouse of protection with its MultiVitamin Thermofoliant, plus its free Skin Resurfacing Cleanser and the Antioxidant Hydramist (in travel sizes).
And, as 'tis the season for giving, there's nothing that those on a gift list appreciate more than a gift certificate. With a gift certificate, recipients can make the final decision regarding the skin health items that make it to their night stand or bathroom cabinet.
To this end, in addition to the Limited Edition gift sets, this holiday, Dailygrooming is offering Dermalogica gift boxes that include a gift certificate, plus a trial size of Daily Microfoliant and Skin Hydrating Masque.
The ever-popular Daily Microfoliant is tops in the beauty "must-haves" of many Dermalogica users. The product micro-foliates and sloughs off dead cells. Skin looks brighter and feels as smooth as silk. (Customers have reported it also balances out skin pigmentation and it is, indeed, developed to even out skin tone.)
Its sister product, the complementary Skin Hydrating Masque, picks up where the Microfoliant leaves off. Not only does it help reduce skin inflammation, but it also reduces the appearance of fine lines. And, unlike some masques, the Skin Hydrating Masque may be applied on the under-eye area. Light and refreshing, its active peptides create a moisture reservoir, trapping water—and improving comfort and hydration.
These products fly off the shelves and, when gift-givers wrap up the present-perfect Limited Edition sets and the added bonus of a gift certificate, they are sure to delight every person on a shopping list.
Because, no matter a person's skin's condition, there's a Dermalogica product that is ready to improve it!
Dermalogica products - entirely free of artificial fragrances and colour, while they pamper and nurture skin--are available at Dailygrooming.co.uk and ship directly from the official Dermalogica UK Distributor.
Free delivery on all orders over £50 within the UK. Current offer valid while supplies last. Contact dailygrooming.co.uk to order, or for further information drop us a line with your questions. We'd love to hear from you!