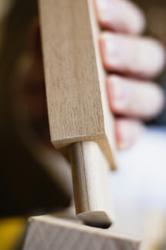 So where are the real furniture artisans in the U.S.?
Seattle, Washington (PRWEB) December 04, 2012
Does anybody in the U.S. make really good wood furniture any more?
Anybody?
It's the handmade kind. Like back when underage apprentices and journeymen learned from the master craftsman. When furniture was carefully hand fit together and finished to last a lifetime?
Back then, wood was rough milled, then matched for grain, cut, planed, fit, sanded and oiled by hand. It took a loooong time, and it wasn't cheap. But it was a thing of beauty and pride, which lasted for generations. Often becoming a cherished family heirloom. Or a focus of squabbles at Thanksgiving.
Today what's mostly available is a bunch of cheaply made wood imports. And RTA (ready-to-assemble) or KD (knocked-down) furniture choices that lay flat in a cardboard box, waiting on a warehouse shelf at a multi-national big box store (oh boy – projects!).
But with a little help, the really good stuff can still be found. Handcrafted wood furniture. Made the old style way. It's out there. In a few towns around the U.S..
So where are the real furniture artisans in the U.S.?
Well the left coast has some established favorites, who still know how to build something by hand that'll last for generations. For people who live anywhere near these places, these shops are definitely worth a visit. In California, there's Berkeley Mills in, well, Berkeley. Head up the coast and a dedicated shopper can find The Joinery in Portland, (similar to Portlandia) Oregon. Last stop heading north is downtown Seattle, Washington where McKinnon Furniture has been a local favorite since 1989. Or way back east, one of the well known names is Thos. Moser in Auburn, Maine, doing business since 1972.
Most of these shops offer a variety of designs and sizes, in a number of different woods and finishes. Some will even do custom sizes. There'll be a little wait – maybe 6 weeks or so – but the end result will be exactly the perfect item. Worth the wait? Oh yes. Think of it as patiently anticipating an Audi that was ordered, instead of going down to the Ford dealer and picking up a pickup.
The cool thing is, the old-school methods now have a little more pep in their step. The traditional handcrafting techniques – mortise and tenon, dovetail corners, hand sanding and matched grains – are all still used. But an assist from power machinery now lets craftspeople improve on their precision and speed up production, while still honoring the time-tested joinery of wood to wood.
What about cost?
Well here's some math. Say the local furniture importer wants $499 for a dresser. But the local furniture craftspeople want $2999 for their dresser. Oof.
Big difference? Maybe not.
The $499 dresser might be okay for 10 years. That's $50 per year. It's also 10 years of having to look every day at a piece that's cheaper, with a finish that's glossy or painted instead of oil-rubbed wood, with drawers that aren't cedar lined or smooth operating, and which is worth exactly zipperoo when it inevitably breaks (and don't plan on the maker fixing it – ever).
But wait, there's more. There's the thrill of getting to go furniture shopping again (guys love this). So add up the time it takes for two people, the gas, the parking, the searching, the "discussions", the second visit, taking time off work to meet the delivery guy, or actually going and getting it, possibly the RTA joy of "some assembly required", carrying it upstairs, dinging doorways, walls, fingers and the furniture itself along the way. Every 10 years? Yippee.
Or?
A person can do this once and be done furniture shopping for about, oh say, 100 years. $2999 divided by 100 = $30 per year. This could free up generations of men from shopping. Call it the 100 year furniture event. And the end result is a cherished piece of furniture, that goes up in value, not down. Genius.
Convinced? Okay, here are a few of the things to look for:
Made in USA ("balance of trade" friendly)
Sustainably harvested woods (i.e., guilt-free)
Matched grains
Mortise and tenon joinery
Dovetail joinery in drawers
Cedar lined drawers
Drawers fully extend, soft closing
Hand sanded, hand rubbed oil finishes
Hardware mounted under drawers
Warranty and personal service
For all 31 tips and a comparison furniture shopping worksheet, download this Furniture Shopping Checklist.
Last thing. Sometimes these artisans brand their company's name into the wood in an out of view spot (Stickley anyone?). And sometimes an individual craftsperson will even add their signature to the piece. Cool eh? Not exactly a time capsule, but just fast forward 100 years, and that name might launch a Google search by a curious great grandkid. Probably in Google 3D holograms by then.
COMPANY INFORMATION
McKinnon Furniture has been making handcrafted wood furniture since 1989. They use traditional methods and environmentally sustainable hardwoods. From their Seattle wood shop and downtown retail store, they offer a full line of home furnishings for a loyal Northwest following. McKinnon also ships throughout the U.S. and can create custom sizes.
CONTACT DETAILS
For additional information, please contact Theresa Schneider at 800-532-5461; or email theresa(at)mckinnonfurniture(dot)com; http://www.mckinnonfurniture.com