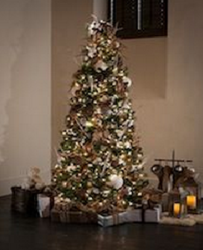 Scottsdale, AZ (PRWEB) December 01, 2012
The 2012 holiday season marks the 3rd Annual "Holiday of Hope- Festival of Trees" fundraiser, organized by the Phoenix Children's Hospital Foundation. To aid in the completion of this charitable benefit, the foundation joined forces with top professional firms such as Ownby Design and 14 of the Valley's other top interior designers. Each participant donated their time and a unique and expertly designed Christmas tree (donated by Sam's Club). The trees were displayed at the renowned Montelucia Spa and Resort hotel and auctioned off to benefit the Phoenix Children's Hospital.
The week long event raised money for patients and families of Phoenix Children's Hospital and its necessary services and care that are provided to the ill and injured children. Ownby Design's team prepped for months on their design concept by gathering unique and luxury adornments to create the inspiring and breathtaking holiday tree. The public was able to admire the beautiful trees during the resort hours. The 9 foot tall Ownby Design tree garnered the highest bid of the evening with its "Luxe Lodge" design.
Since 1983, the Phoenix Children's Hospital has provided hope, healing, and the outmost healthcare for children and their families. Ownby Design is honored to have participated in an event which helps raise awareness and funding for these families.
About Ownby Design
Ownby Design is a luxury interior design firm that specializes in interior design, architectural detailing, and kitchen & bath design for new builds and remodels. Ownby Design has design studios in Scottsdale, AZ and in Waikoloa, Hawaii.