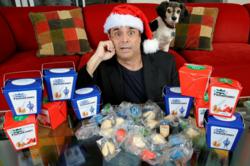 Studio City, CA & Los Angeles, CA (PRWEB) December 03, 2012
After 200 years, the iconic fortune cookie has finally gotten a makeover, thanks to the Los Angeles-based Ray Richmond Company and its founder – journalist-turned-entrepreneur Ray Richmond. Richmond has redesigned, reconceived and reinvented the humble fortune cookie into a crackly treat more aligned to the 21st century and beyond. And today, he announced the introduction into the American consumer marketplace of SUPER ACCURATE FORTUNE COOKIES, the first prose-based snack food product truly worthy of the fortune cookie name. (Please see the website at http://www.SmartestCookies.com.)
To tie in with the upcoming holiday season, The Ray Richmond Company is currently taking orders for its SUPER ACCURATE FORTUNE COOKIES designed to celebrate both Christmas and Hanukkah with cookies tailored to feed and entertain humorously-inclined family members of all ages. The cookies have been colored and flavored to match each holiday – red (strawberry) and green (mint) for Christmas, blue (blueberry) and white (coconut) for Hanukkah. Most noteworthy of all, the fortunes inside are astonishingly accurate in their relevance to the lives of those reading them, thanks to Richmond's team of quasi-psychic cookie consultants.
"This unprecedented new product speaks to the specifics of each person's life in a way that foods with tiny printed messages stuffed into them have historically been unable to achieve," Richmond says. He added, "With the advent of Twitter, it became clear to me that this generation is accustomed to receiving its information in short, Twitter-like bursts. That's when we realized that fortune cookies actually are the original tweets, as well as a perfect fit for the ever-shortening attention span."
"Our fortune cookies probably know you better than you even know yourself," Richmond continues, "supplying a more exact predictive apparatus than previously thought possible. In fact, leading fortune cookie authorities across America agree that our cookies are a full 77% more accurate than regular fortune cookies. That's why we call them, 'The Smartest Cookies on Earth.'"™
Each quart-size, colorful, Chinese takeout gift box of SUPER ACCURATE FORTUNE COOKIES retails for $8.99 and comes with 10 individually-wrapped cookies bearing different fortunes. The messages inside are witty and offbeat without being offensive.
At present, the cookies are available exclusively on the SUPER ACCURATE FORTUNE CO0OKIES website at http://www.SmartestCookies.com. Richmond expects that his company's new product will also soon be available in gift shops coast to coast, as well as wherever finer fortune cookies are sold.
Richmond wants consumers to know another important thing about his SUPER ACCURATE FORTUNE COOKES—they're delicious. "We've contracted with one of the country's only bakers of colored and flavored fortune cookies, and I'd like to assure everyone that both the cinnamon and green mint cookies in the Christmas box and the blueberry and coconut morsels in the Hanukkah box are the best-tasting fortune cookies you'll ever eat. I know that isn't saying much. But it's true all the same."
ABOUT RAY RICHMOND
Los Angeles-based Ray Richmond is considered one of the leading experts on television, media and the entertainment industry. For the past 25 years, he has worked as a television critic, columnist and reporter for a number of print publications including The Hollywood Reporter, Daily Variety, the Los Angeles Daily News and The Orange County Register. In 2009 he launched his own firm, The Ray Richmond Company, where his clients include Deadline Hollywood, Hallmark Entertainment, FX Networks and others.
In addition to breaking news, writing personality profiles and conducting interviews, Richmond is a fully accomplished and prolific author. His books include The Simpsons: A Complete Guide to Our Favorite Family (1997), This is Jeopardy: Celebrating America's Favorite Quiz Show (2004), TV Moms: An Illustrated Guide (2000) and My Greatest Day in Show Business (1999).
He has also appeared often as an industry expert on various TV programs including A&E's Biography and The E! True Hollywood Story series from E! He is a respected radio commentator, regular moderator at The Paley Center for Media in Beverly Hills, and guest lecturer on journalism and communications at numerous colleges including USC, UCLA and Chapman University.
It is only recently that Richmond added "creator of fortune cookie literature" to his repertoire.
THE HISTORY OF THE FORTUNE COOKIE
Fortune cookies were not born in China but Japan. As early as the 19th century, a cookie very similar in appearance to the modern fortune cookie was made in Kyoto, Japan, and there is a Japanese temple tradition of random fortunes, called o-mikuji. Most of the people who claim to have introduced the cookie to the United States are Japanese, so the theory is that these bakers were modifying a cookie design which they were aware of from their days in Japan.
Makoto Hagiwara of Golden Gate Park's Japanese Tea Garden in San Francisco is reported to have been the first person in the United States to have served the modern version of the cookie in the 1890s or early 1900s. David Jung, founder of the Hong Kong Noodle Company in Los Angeles, made a competing claim that he invented the cookie in 1918. Seiichi Kito, the founder of Fugetsu-do of Little Tokyo in Los Angeles, also claimed to have invented the cookie. Kito maintained that he got the idea of putting a message in a cookie from Omikuji (fortune slip), which are sold at temples and shrines in Japan. According to his story, he sold his cookies to Chinese restaurants in California.
Fortune cookies moved from being a confection dominated by Japanese-Americans to one presided over by Chinese-Americans sometime around World War II. One theory for why this occurred involved the Japanese-American internment during World War II, which forcibly imprisoned more than 100,000 Japanese-Americans in internment camps, including those who had produced fortune cookies. This enabled Chinese manufacturers to take over the niche.
Before the early 20th century, however, fortune cookies were all made by hand. The fortune cookie industry changed dramatically after the fortune cookie machine was invented by Shuck Yee from Oakland, CA. The machine allowed for mass production of fortune cookies which subsequently allowed the cookies to drop in price to become the novelty and courtesy dessert many Americans are familiar with after their meals at most Chinese restaurants today.