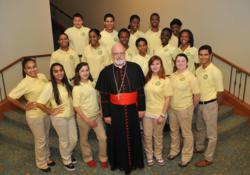 Before Cathedral, I didn't think that college was for me. I didn't think that education was a way out. If it wasn't for Cathedral, I would not be at UMASS Boston.
Boston, MA (PRWEB) December 05, 2012
Cathedral High School and the Adopt-a-Student Foundation (AASF) celebrated their eleventh annual Partnership for Success dinner at the Seaport Hotel on Tuesday, October 30. Every year the dinner raises funds for Cathedral High School and it is sponsored by the school's Board of Trustees.
Through the generosity of Adopt-A-Student Foundation donors, the Cathedral experience is made possible for many students. Today, over ninety percent of students who desire a Cathedral education cannot afford the full tuition, even though school keeps the tuition at an affordable cost of $4,500.
The emcee for the evening was Peter Meade an alumnus of Cathedral, class of 1963 and he currently is the Chief Economic Development Officer for the City of Boston. This year's event honored John G. White, Managing Director, head of Capital Markets, Boston at Barclays Capital, for his dedication and commitment to Catholic education through the foundation. Over the years, his leadership and tireless work through the Partnership for Success Dinner and the AASF Golf Tournament have helped to improve educational standards, to renovate the facilities, and to expand the school.
As the eastern seaboard continues to recover from the aftermath of Sandy, the effects of the storm could not stop Cathedral High School's philanthropic engine from raising over a million dollars for its students through the dinner. Due to Sandy, there was growing concern on the event still happening and many of the guests expected to honor Mr. White, could not travel to Boston from New York.
Thanks to the leadership of Robert O'Neill, who chaired the Partnership for Success Dinner for the first time this year, the event was oversold. As the storm subsided, Mr. O'Neill was relieved the dinner was still on and by all accounts, the eleventh edition of the dinner turned out to be the best one yet.
Former Senator Scott Brown, who Mr. White coached as head basketball coach at Tufts University, honored him with a special video testimonial. The room was also overwhelmed with emotion after watching a short testimonial video titled AASF Words of Wisdom and a longer one, AASF Success describing the Cathedral educational experience from the perspective of past and present students, teachers, and parents.
Some of the most memorable moments of the night came from the live presentation of student speeches that discussed their definition of success. Thankfully for the students of Cathedral the storm missed Boston and they were able to be blessed by the support of so many once again.