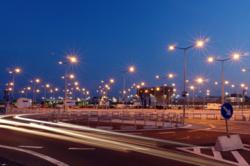 "We continue to research ways to reduce our monthly expenses, working with Improved illumination provided that trusted third party, unbiased approach that my entire teams likes and appreciates."
Scott Galvin
The Galvin Group
Boston, MA
Boston, MA. (PRWEB) December 04, 2012
The well-known Charles Ormes Business Office Complex stands squarely at the centrally located corner of Charles and Orms Street in downtown Providence, RI. With a long list of top trier tenants including ABC-TV 6 and others, keeping the property well maintained and illuminated is a key objective for the property management team. After a careful study of the various exterior lighting technologies available, Management decided to replace the older, outdated exterior 400W Metal Halide lighting fixtures though out the parking areas with energy efficient Induction Lighting Technology.
Improved Illumination, a leading provider of cost effective lighting solutions to commercial, industrial, educational and municipal clients was pleased to be chosen to provide the 200W Induction Shoebox fixtures for this project. "By replacing the energy hungry 400W Metal Halide fixtures with the 100,000 lamp life Induction fixture, the client was able to reduce the monthly electric consumption by over 50%, improved the overall illumination of the parking area as well as reduce the budgeted maintenance costs for many years to come" stated Jim Feeney, Managing Director of Improved Illumination.
"We invite property managers, business owners, landlords, commercial real estate professionals, car dealerships, hospitality organizations and others to contact us to request a timely and relevant report entitled: Evaluating Your Parking Lot Lighting: Better Lighting for Less: Less Money, Maintenance and Labor."
"This report maps out a series of steps that be undertake to evaluate the adequacy of their current outdoor lighting configuration. Many of our clients are finding that even if their outdoor lighting has been replaced in a period as short as 3-5 years ago, their outdoor lighting may be inadequate in terms of providing required safety level of lighting, and may have become a major source of unnecessary utility expenses and maintenance charges," according to Feeney.
The Report lists 6 basic considerations that should be investigated and discussed when collecting the required data points needed to make an educated purchasing decision. Those six factors are:
1) Intensity
2) Consistency
3) Color of lighting
4) Efficiency
5) Lamp Life and the effect of Lumen Deprecation
6) Financial including Initial Cost, ROI, Payback, Operational Savings and Maintenance Cost Reduction.
"This is the second in a series of informational reports that we are making available to interested members of Improved Illumination's target audience. The first free report entitled: "The Proven Economic Benefits of Retrofitting Your Exterior Lighting: A Guide for Commercial and Industrial Property Owners" discussed in detail three factors our clients are taking advantage of to help reduce their monthly lighting expense and maintenance costs. Those three factors are: 1) the significant monthly saving available from more efficient fixture options, such as Induction and LED, 2) aggressive Utility provided financial incentives used to offset the investment of replacing the currently outdated fixtures and, finally, 3) favorable Federal Tax Code Incentives currently available.
Please feel free to contact Improved illumination in order to receive this free report."
Improved illumination provides exterior and interior cost saving lighting solutions to commercial, industrial, educational, and government clients. Improved illumination works with parking facilities, warehouse owners and managers, hospitals, lodging organizations, auto dealerships, real estate professionals and a host of others to evaluate and provide unbiased cost saving suggestions to reduce their monthly lighting expenses. These benefits provide a solid ROI and a payback measured in months, not years.
Please contact Jim Feeney @ 508.801.9205 or jfeeney(at)improvedillumination(dot)com to learn how Improved Illumination can assist your organization.