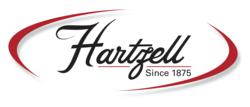 Piqua, Ohio (PRWEB) December 03, 2012
Hartzell Air Movement offers engineers and customers of wastewater facilities a complete product line of fiberglass exhausters for managing odor control challenges, energy efficiency, and the noise demands of wastewater treatment plants. Our line of fiberglass exhausters can be provided as a complete unit for wall or roof mount and features our highly efficient and low noise solid fiberglass one-piece wheel.
The Series 87 and 88 Fiberglass Upblast Exhausters and the Series 82 and 83 Fiberglass Downblast Exhausters are extremely effective in a corrosive environment, especially where the highly corrosive hydrogen sulfide is present in the airstream. Hartzell exhausters are available with custom-size wall boot, intake hood, and fiberglass dampers to make installation easier and more efficient.
These fiberglass exhausters are just one piece of Hartzell's broad product offering. They also offer a complete line of fiberglass fans and blowers which can be customized to meet the needs of our customer and have a wide variety of coatings to provide even more protection for extended service life.
Hartzell Air Movement is a leading manufacturer of industrial air moving solutions to a variety of markets throughout the world. The company manufactures in Ohio, Indiana, and Singapore. Hartzell has been in business since 1875.
If you would like more information on Hartzell Air Movement products, please visit http://www.hartzell.com or contact your local field sales representative. To connect with us via Facebook use https://www.facebook.com/pages/Hartzell-Air-Movement/171303506246873?ref=hl and for Linked in use http://www.linkedin.com/company/hartzell-air-movement.