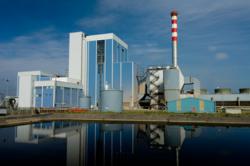 The journey to ISO 50001 has helped Edenderry Power adopt best practice in efficient energy utilisation to the advantage of the organisation
Dublin (PRWEB UK) 1 December 2012
Edenderry Power has been presented with ISO 50001 Energy Management Systems (EnMS) certification, as a result of an independent assessment conducted by Certification Europe.
The journey to ISO 50001 has helped Edenderry Power adopt best practice in efficient energy utilisation to the advantage of the organisation. "Before developing our systems to meet ISO 50001 standard, energy management was part of environmental resource control. Some of the initial work involved both procedurally and mentally separating the two systems. We then identified real energy savings within the plant, especially in connection with the electricity used on site as part of the conversion process. The implementation of ISO 50001 and the detailed review of energy utilisation on site helped identify two major internal heat recovery opportunities" stated Richard Neale, Edenderry Power EHS Manager.
Certification Europe Lead Assessor in Energy Management Systems Dermot Gibbons focused on the specific relevance of ISO 50001 certification for Edenderry Power's business "To comply with Energy Management System's requirements and achieve ISO 50001 certification, Edenderry Power has developed a number of policies, procedures and protocols. They have achieved immediate and long term benefits which result in both cost savings, increased operational efficiencies, optimised equipment utilisation and a consistent energy awareness among staff members at all levels."
The importance of the 'human factor' in achieving and maintaining ISO 50001 certification has been highlighted by Stephen O'Connor, Edenderry Power Management Representative: "ISO 50001 has provided a structured approach to energy management across the entire organisation, as well as a 'measurement mentality' for management and employees to detect potential energy saving opportunities at each stage of processing. One additional finding within our organisational structure, shared both at management and floor shop level, was that it was unlikely that any one item was going to produce major savings, the road to 'Energy Efficiency' for the most part, consists of small, hard won, incremental improvements. It is the collective, systematic approach to ISO 50001 that helped us identify many fringe progress opportunities. Some have been addressed and others remain as on-going projects."
Edenderry Power is owned and operated by Bord na Móna which is Ireland's leading environmentally responsible integrated utility service provider encompassing electricity, heating, resource recovery, water, growing media, environmental solutions and related services. Edenderry Power has been in operation since 2000 and employs 45 people directly and a further 250 indirectly through suppliers and services provided to the plant. The state-of-the-art power station based in Co. Offaly produces 120MW of electricity, which supplies around 3% of Ireland's national requirement.
The ISO 50001 award is the most recent in a series of key international standard achievements at Edenderry Power. In June 2002, they became the first in Ireland to achieve ISO 9001, ISO 14001, and OHSAS 18001 certifications as part of one integrated system which is comprehensively assessed for performance by Certification Europe.
Ends
For further information contact:
Certification Europe: Paola Vercesi, Tel: 01 6429300, Email: pvercesi(at)certificationeurope(dot)com
Company Profile – Certification Europe
Certification Europe is an accredited certification body which provides International Organization for Standardization (ISO) management system certification and inspection services to organisations globally. ISO Standards provide a recognised framework to achieve best practice management. Certification Europe can certify your organisation to Quality (ISO 9001), Environmental (ISO 14001), Health & Safety (OHSAS 18001), Energy (ISO 50001), Sustainable Event Management (ISO 20121), Business Continuity (ISO 22301), IT Service Management (ISO 20000) and Information Security Management (ISO 27001). The company currently assesses over three thousand organisations internationally on an annual basis. Clients range from micro enterprise to multinationals and include Government Departments, State Bodies and private organisations. Headquartered in Dublin, Ireland, Certification Europe has additional operations in the United Kingdom, Italy, Turkey and Japan.