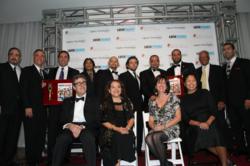 A Trendsetter believes and achieves
New York, NY (PRWEB) December 03, 2012
Eleventh Annual Latino Trendsetter Awards Recap
Presented by: LatinTRENDS and Laboratorio Buena Salud
Co-Sponsors: CUNY, Inca Kola & US ARMY ROTC
Associate Sponsors: Popular Community Bank, Time Warner Cable, Heineken USA & Absolut Vodka
The Eleventh Annual Latino Trendsetter Awards, a benchmark celebration, was held on Tuesday, November 27, 2012 at The Metropolitan Pavilion in NYC.
Juan Guillen, LatinTRENDS founder & CEO stated "My company was born on September 11th 2001. The magazine never made it to the newsstands that day. I still have the distributor's receipt from that morning at 6:47 am. However, the next day, I hit the pavement. I was on a mission to not let my business or my dream die. As I pursued business and promoted my brand, people gasped at how I could continue to work in the middle of chaos. But I was blessed with the American spirit to dream on."
Richard Rodriguez of Laboratorio Buena Salud, co-presenting sponsor, presented two awards in Medicine and Health, respectively, to Dr. Luz Amarilis Lugo, MD of Mount Sinai Hospital HIV Clinic and Dr. Sixto Caro, MD of NYU Langone Medical Center. Co-sponsor CUNY's Vice Chancellor, Jay Hershenson, presented a Special Award to Baruch College Professor Allan Wernick for his contribution to the Hispanic community as a non-Latino working in immigration. He also awarded Hostos Community College President Felix Matos Rodriguez.
Among this year's Trendsetters were Tech entrepreneur Eder Holguin and the Hon. Nelson Diaz, a partner at Dilworth Paxon LLP. Additional Trendsetters were Dr. Rosa M. Gil, President/CEO of Comunilife; Antonio Ruiz -Gimenez, President of Innovators Fund; Frederick Martínez ¨El Pacha, ¨ Univision Radio & TV Personality; Ernesto Quiñonez, Author& Associate Professor of Cornell University; J.W. Cortes Co-Star of Reality Show, Stars Earn Stripes; Jacqueline L. Rosa of JPMorgan Chase, Alex Guzman, partner at Compare Foods; and David Zayas of Showtime's Hit Series, Dexter. Dr. Myrka Gonzalez, Esq. Trustee, Dowling College and David Ochoa, Development Initiative Managing Director, Vaughn College received a special award as a couple for philanthropy in education. Telemundo 47 NY received the Media Company of the Year Award for being the first Spanish language TV station in the tri-state area and second largest in the nation. They are celebrating their 47th anniversary. For more information, please visit http://www.latinotrendsetter.com to learn more about LatinTRENDS, a multimedia company, whose mission is to entertain, inform and inspire forward-thinking men and women.
LatinTRENDS, 60 West 39th Street, Suite 2W, New York, NY 10018
Contcat Becky Rumayor 212-851-6164
brumayor(at)latintrends(dot)com
http://www.latinotrendsetter.com