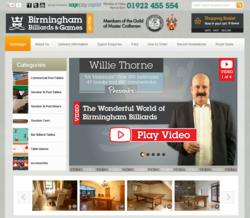 We're very happy with the new website, at last we can sell our products online and showcase our unique range of high quality snooker and pool tables to people all over the world
(PRWEB UK) 1 December 2012
Birmingham Billiards and Games today launch their new ecommerce website. The new website features videos presented by Willie Thorne. Born in Anstey, Leicester in March of 1954, snooker was introduced into Willie Thorne's life from a young age. When his brother Malcolm asked for a 6ft x 3ft snooker table for Christmas, in true brotherly style, Willie started playing the game at every opportunity, quickly becoming obsessed. As he perfected his game, his parents were supportive of his passion; his mother bought him one of his first snooker cues when Willie turned 14, a cue he continued to use, with adaptations, throughout his entire career.
Dave Tapper commented, "We're very happy with the new website, at last we can sell our products online and showcase our unique range of high quality snooker and pool tables to people all over the world. Out Videos are a great feature on the website, Willie Thorne presents four videos covering our range of products from snooker and pool tables to our handmade cues."
Dave Tapper further explains "We manufacture our snooker tables in sizes from 6ft x 3ft up to full size which is referred to as 12ft x 6ft. The decision to choose the correct table size is based on the available room size. We give advice on what size table suits our customer's available space to ensure they have a table they can enjoy for years to come."
To complement Birmingham Billiards existing range of full size, professional quality range. Birmingham Billiards has now introduced a new collection of convertible dining tables. Each table comes with a handmade hardwood veneered top and a solid brass rise and fall mechanism to convert the table from dining height to playing height. Whilst being an elegant piece of furniture, these tables are manufactured to the exact playing specifications any consumer would expect from Birmingham Billiards. All of these factors are combined with traditional design and craftsmanship to produce every Birmingham Billiards table.
Established in 1936, Birmingham Billiards supplies the full range of Snooker and Pool Tables and equipment , including playing accessories. We stock the full range of products related to the cue-sports Industry, from cues and cases, tables and balls, canopies and lighting, scoreboards and rests. You can view Birmingham Billiards New website at http://www.birminghambilliards.com