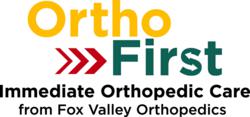 Geneva, Illinois (PRWEB) December 03, 2012
Holiday enthusiasts are scrambling to get ready for Christmas. They're climbing ladders to hang holiday lights and decorations, rummaging around the woods to find and chop down the perfect tree, and performing many tasks their bodies aren't used to doing. OrthoFirst, a division of Fox Valley Orthopedics, provides immediate walk-in care for 'over-doing it' injuries during the holidays.
Nobody wants to head to the hospital over the holidays. And when acute orthopedic injuries are diagnosed and treated in the emergency room or urgent care, what happens in most cases – according to Mary O'Brien, CEO at Fox Valley Orthopedics – is the patient is then referred to an orthopedic specialist for follow-up care.
OrthoFirst simplifies the injury care process by immediately connecting patients with the appropriate orthopedic specialist. By going directly to an orthopedic specialist, patients maximize convenience, reduce potential hassles, and save time during the busiest season of the year. They can also expect to pay less in co-pays for orthopedic care at OrthoFirst, including less for diagnostic services such as X-rays or MRIs.
In addition to holiday 'overdoing-it' injuries, OrthoFirst provides immediate care for sports and workplace injuries, sprains and strains, broken bones, dislocations, and muscle pain, and treats children, adults, seniors, and athletes of all ages.
OrthoFirst accepts most major insurance carriers and self-pay. Details about OrthoFirst, Fox Valley Orthopedics' orthopedic urgent care clinic, can be found on the Fox Valley website at http://www.fvortho.com, or call 1-855-FVO-OPEN.
ABOUT FOX VALLEY ORTHOPEDICS (FVO)
FVO was founded in 1973 in Geneva, Illinois for the purpose of providing exceptional comprehensive orthopedic care in an environment that puts patients first. FVO provides a vast range of bone and joint surgery and care through its advanced imaging center, research facility, sports medicine center, and ambulatory surgery center. Dedicated to the community, Fox Valley Orthopedics serves as team physicians for many local high schools, youth organizations, and is the official team physician group for the Kane County Cougars. The practice serves communities throughout Chicago with offices in Geneva and Elgin. For more information, go to http://www.fvortho.com.