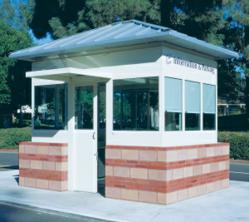 Los Angeles, CA (PRWEB) December 05, 2012
When UCLA needed a new combination information kiosk/guard booth, they turned to B.I.G. Enterprises, Inc. (http://www.bigbooth.com) who fabricated The Bruin, a tough, and aesthetically restrained timeless design. A vital part of the University of California, Los Angeles' mission is based on their 'Principles of Community'. These axioms help ensure a welcoming and inclusive environment for all members of the campus community. While The Bruin's exterior provides a welcoming interface, the highly-customized interior components give information and security workers a flexible platform from which to operate.
Designed to harmonize with any architectural style, this visually appealing booth features a standing seam roof, stainless steel components, and tinted windows with incorporated sun shades. The Bruin ships fully fabricated and ready for installation. The Bruin can incorporate any number of decorative facades, and the booth can be scaled up or down to meet specific size requirements. B.I.G. designs are ADA compliant.
B.I.G. guard booths are manufactured using the finest materials and techniques including welded steel construction. Using a high build primer, and two part catalyst polyurethane finish coat, The Bruin's exterior finish is electrostactically painted with a rust inhibitive coating. Computer color matching is available. Noted for its flexibility, The Bruin is outfitted with extensive electrical capabilities, high output HVAC, data and communication lines, shelves and attractive cabinetry options. The Bruin can also be customized for specific security needs including bullet and blast resistance.
"Our booths have been used all over the world, on numerous university and corporate campuses. Like all of our guard shelters and booths, The Bruin meets the exacting demands of regulatory agencies, security directors, facilities managers, and architects. We fabricate each booth to enhance the image of the facility for which it's designed." said Vice President, David King.
About B.I.G. Enterprises:
Since 1963, B.I.G. Enterprises, Inc. of California has engineered and manufactured a comprehensive line of high quality, high-end, prefabricated security and revenue control booths. Their state-of-the-art selection of pre-assembled buildings includes guardhouses, cashier booths, portable shelters, and a variety of custom-made kiosks.