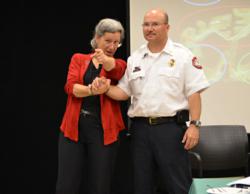 Learning about this disease will positively impact all parties, emergency personnel as well as civilians - JoAnn Westbrook
Sarasota, FL (PRWEB) December 05, 2012
In an effort to improve emergency services for people with dementia, Pines Education Institute of Southwest Florida, the educational arm of the not-for-profit Pines of Sarasota, released a hands-on training DVD for law enforcement officers, fire fighters, EMTs, 911 Dispatchers and emergency room personnel.
Hosted by nationally renowned dementia caregiving expert Teepa Snow, MS. OTR/L, FAOTA, this 105 minute long training program educates emergency personnel about the basics of dementia. Viewers learn how to best communicate with someone with the disease, how to increase cooperation and best help in cases of abuse, neglect, fraud, theft, wandering, elopement, and medical emergencies.
"Not being able to recognize symptoms of dementia and knowing how to interact with a person with the disease easily leads to misunderstandings that could be considered a threat by an unknowing police officer," JoAnn Westbrook, Director of Education at the geriatric-oriented Pines Education Institute of S.W. explains.
"Law enforcement officers are expected to "Serve and Protect" people in the community, but they also need to protect themselves. Learning about this disease will positively impact all parties, emergency personnel as well as civilians" Mrs. Westbrook further explains. "Emergency responders are doing a fantastic job safeguarding our communities, and it is vital that they receive our support in return."
To learn more please visit http://www.pinesofsarasota.org/shop
#
About Pines Education Institute of S.W. Florida: The Pines Education Institute of S.W. Florida, the not-for-profit educational department of Pines of Sarasota, provides cutting-edge, specialized education, outreach programs, support, resources and counseling to family members and geriatric caregivers. For more information visit http://www.pinesofsarasota.org
About the Pines of Sarasota: Pines of Sarasota is a private, non-profit long-term care community on 17 acres near downtown Sarasota. Established in 1948 by the Kiwanis Club, Pines provides quality, compassionate Assisted Living, Skilled Nursing, and Alzheimer's/Dementia Care for residents, even after they have outlived their financial resources. Pines services also include in and outpatient rehabilitation care, two preschool child care centers, the Education Institute of Southwest Florida and the Fabulous Finds Thrift Shops. For more information visit http://www.pinesofsarasota.org.