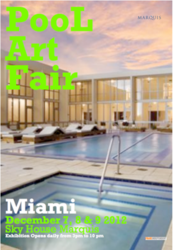 Casa Moderna is the perfect venue for PooL, and an ideal hub for art enthusiasts visiting Miami for Art Basel.
Miami, FL (PRWEB) December 03, 2012
Casa Moderna Miami is proud host the PooL Art Fair, coinciding with Art Basel Miami Beach 2012. The fair, which will take place on the hotel's 14th-floor sky pool deck, begins with an opening party on December 6 and runs daily from December 7–9. In addition to the fair, the Miami luxury hotel will showcase art in 12 of its stylish townhouses and on its first and third floors during Art Basel weekend.
PooL Art Fair takes a simple, modest approach to art, offering a refreshing alternative to the faster-paced "Art Show" environment for dealers, collectors and the general public. The fair serves as a meeting place for outstanding artists, many of whom do not yet have gallery representation.
"Casa Moderna is the perfect venue for PooL, and an ideal hub for art enthusiasts visiting Miami for Art Basel," Elizabeth Beirns said. "The hotel's artful elements, ultra-modern features, and stunning sky pool deck complement the fair's creative, forward-thinking aura."
Exhibitors at Casa Moderna Miami include:

Bakehouse Art Complex Miami
Nia Burks
Juan Carlos Zaldizar
Jacob Abramson
Robin Glass
Ati Maier
Lucinda Linderman
The Downtown Miami luxury hotel is located just four miles from the main event: Art Basel, held at the Miami Beach Convention Center. This year's event will showcase the work of more than 260 galleries and 2,000 individual artists, carefully chosen from the ranks of the world's best. The show features some of the world's most renowned artists and young up-and-comers, introducing the general public to cutting-edge art and providing a place for industry professionals to gather. Art Basel Miami Beach runs from December 6–9.
About Casa Moderna Miami:
Casa Moderna Miami is Miami's most luxurious new hotel, boasting 56 lush guestrooms and suites with views of beautiful Biscayne Bay. Experience an ultra-modern oasis for both business travel and leisure, located minutes away from the best Miami attractions. Deluxe amenities at Casa Moderna include a 14th floor sky pool deck, 8,000 square foot spa and fitness center, and Amuse Restaurant & Lounge, making Casa Moderna Miami an optimal destination for Miami travel.