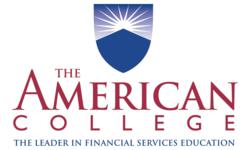 Women don't need to choose between saving and paying off debt – they must do both to build a stronger and brighter long-term financial future for themselves and their families.
Bryn Mawr, PA (PRWEB) December 03, 2012
The pressure to pay off debt amid the challenge of meeting their own and their family's immediate needs are key challenges preventing women of color from saving and building cash reserves. This ongoing strain is resulting in a state of financial insecurity that is consistent across women of all racial and ethnic groups, according to a new study released today by The State Farm® Center for Women and Financial Services at The American College, the nation's leading authority on economic issues and opportunities for American women.
"Our research uncovered the key roles a savings plan and cash reserves play in the financial security and stability of women of color," said Professor Mary Quist-Newins, ChFC®, CLU®, CFP®, Director of The State Farm Center for Women and Financial Services at The American College. "Women don't need to choose between saving and paying off debt – they must do both to build a stronger and brighter long-term financial future for themselves and their families."
The report titled "Survey on the Financial Needs & Attitudes of Women of Color" polled 3,000 Asian, Hispanic and African American women ages 25 to 75 with household income of at least $45,000, along with a comparison group representative of women in the general public. It found that virtually all women of color strongly or somewhat agree (95 percent of general population) that it is important to have cash reserves to help with unexpected expenses. Yet, reducing or eliminating debt remains a top priority for three-quarters of women of all racial and ethnic backgrounds, prohibiting women from actually developing cash reserves in many cases.
While few respondents feel extremely secure, even with emergency savings, the presence of savings does boost feelings of financial security. For example, results found that those with a systematic savings plan are almost three times as likely to have a cash reserve as those without a plan. The lack of cash reserves is consistent among all income levels, hitting middle-income households the hardest.
Despite the challenges, women of color report greater optimism about their financial futures. In fact, across all income levels, African American women express the most hope for an improved economic position in the coming years (74 percent compared to 56 percent of the general population).
Additional key survey highlights include:

Women across racial and ethnic backgrounds (four in ten) strongly agree that their mother was good at managing money. Fewer – just three in ten (29 percent) – laud their father's financial management. Still, fewer than half (47 percent) suggest that their approach to money management resembles that of their parents.
Women of color generally plan to retire at a younger age than women overall. On the whole, women of color expect to retire about a year sooner than average (65), while women in the general population (27 percent) are far more likely to say they plan to retire at age 70 or beyond.
Women of color are more likely to think they can't afford a financial advisor, but most women believe that working with one could help. Half of all women agree at least somewhat that working with a financial professional would help them achieve their financial goals. When it comes to what women look for, the advisor doesn't need to be a woman – understanding their unique financial needs (23 percent general population) is far more important that sharing the same demographic traits, like age (7 percent), race (6 percent) or gender (4 percent).
Asian and African American women are more focused on starting a business than women in the general population. The report found 15 percent of African Americans and 12 percent of Asians report starting a business as a high financial priority.
Only one in ten women overall agree that they know how to invest their money so it grows. Most are saving through basic checking and saving accounts or through workplace retirement plans (97 percent of general population use checking accounts and 85 percent report having a savings account).
"Women have always played a key role in home-related purchases and budgeting and now is the time for them to own a larger stake as confident and informed voices in their household's long-term financial planning," said Quist-Newins.
To learn more, download the full report and check out the infographic. In addition, you can view a video about these findings and their implications on The American College's Wealth Channel.
About the American College
The American College is the nation's largest non-profit educational institution devoted to financial services. Holding the highest level of academic accreditation, The College has served as a valued business partner to banks, brokerage firms, insurance companies and others for over 85 years. The American College's faculty represents some of the financial services industry's foremost thought leaders, including The State Farm Center for Women and Financial Services – the first and only academic institution devoted exclusively to the study of women and financial services. For more information, visit TheAmericanCollege.edu.