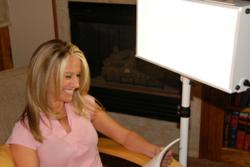 Several recent scientific publications suggest the possibility of an increased risk for suicidal behavior in adults who are being treated with antidepressant medications.
Reno, NV (PRWEB) December 04, 2012
This time of year, the news is rife with stories on Seasonal Affective Disorder (SAD), at one time called the winter blues. The U.S. News & World Report story "Seasonal Affective Disorder: Don't Let It Get You Down" by Laura McMullen published on December 3, 2012 clearly demonstrates the large number of people suffering from severe bouts of depression during the winter months and then recovering fully when the season ends. A person with SAD begins to fight with symptoms of severe depression in the fall when days start to get shorter, and in the winter months when days are at their shortest. Although they normally start to feel better in the spring, treatment for this condition often becomes necessary. Treatment often includes antidepressant drugs, psychotherapy and bright light therapy.
The exact cause of SAD is unknown, but given that the symptoms are more common during winter and in the higher latitudes of the Northern Hemisphere, doctors believe that lack of sunlight possibly alters brain rhythms, leading to depression. SAD is far less common in countries that receive a lot of sunlight.
Frequently, antidepressants are used to treat Seasonal Affective Disorder and may help prevent depressive episodes in people that suffer from it. However, they are not without risk. While antidepressants work well for some people, they are far from a perfect cure. New studies completed on antidepressants indicate many disturbing facts are beginning to emerge, such as: Antidepressants can cause serious side effects that actually increase symptoms of anxiety & depression in some cases and are ineffective in up to 50% of cases. In addition, they can be as addictive as narcotics and can cause serious withdrawal symptoms upon treatment completion.
While the side effects of antidepressants mentioned above are the most frequent, there are also more serious side effects possible. In some cases, people have experienced high fever, confusion, muscle rigidity, and cardiac, liver, or kidney problems. But the most dangerous, potential problem according to the FDA is "Several recent scientific publications suggest the possibility of an increased risk for suicidal behavior in adults who are being treated with antidepressant medications." This concern lead the FDA to order black box warning labels on all antidepressant drugs disclosing the increased risks of suicidal behavior.
In light of this information, many Doctors have turned to bright light therapy as their first option for the treatment of Seasonal Affective Disorder. In a recent study by Dr. Ritsaert Lieverse, MD, published in The Journal of the American Medical Association (JAMA), patients with depressive disorders like SAD, that had used bright light therapy demonstrated improved mood, enhanced sleep efficiency, and increased upslope in melatonin level gradient. In addition, bright light therapy produced continuing improvement in mood and an attenuation of cortisol hyperexcretion after discontinuation of treatment. Ongoing studies have reported that as many as 80% of patients achieved complete relief and remission through the use of bright light therapy. The standard recommendation of 30 minutes of daily exposure to 10,000 LUX is based on average response to bright light therapy.
About Alaska Northern Lights
Founded in 1993, we are an online retailer of bright light therapy boxes for treating seasonal and non-seasonal depression, sleep disorders, and bipolar disorder. Alaska Northern Lights has sold over 30,000 North Star 10,000 light boxes since it opened for business 17 years ago. Just to give you an idea of how effective our light box is, even with our 60 day, 100% money back program, over 98% of customers choose to keep their amazing North Star 10,000 light box.