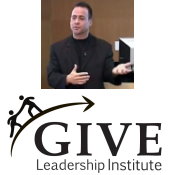 All of these words of encouragement and excitement about GIVE's success in bringing leadership development to students of this age group inspired me to maximize the number of sessions I facilitate with young students in 2013 and in the future.
Ithaca, NY (PRWEB) December 31, 2012
GIVE Leadership Institute has been focused on providing clients such as UConn, Cornell and Texas A&M with hands-on training in sustainable leadership and practical applications for issues such as lack of employee engagement, and workplace bullying that impact the "Triple Bottom Line" of "People, Profit & Planet." In recent months, GIVE has successfully applied these principles and methods to teach sixth grade students at the Elizabeth Anne Clune Montessori School of Ithaca, New York, what it means to lead past the negativity bias, maintain harmony, establish trust and manage conflict within teams. This success has inspired Al Gonzalez, co-founder of GIVE, to make the needs of future leaders like those students a top priority for the institute.
"As a parent of a 12 year old myself, I have personally experienced the negative effects that bullying and conflict have had on my daughter," said Gonzalez. "I was expecting that concepts like using authority to bully others would make sense to them. What I did not expect was to see them quickly and easily connect leadership with the ideas of managing or leading teams away from conflict and not letting our own negativity bias influence our actions. To them, this seemed perfectly logical."
Gonzalez described his reaction to the speed and clarity with which these young students grasped the leadership concepts he shares with corporate clients and academics as a sense of amazement. On subjects ranging from basic topics of personality types and trust to more complex ones such as managing conflict and providing honoring feedback, the pre-teen Montessori participants understood the material and discussed the applications of the material to their own relationships at length.
According to Gonzalez, the children at these seminars present a sharp contrast to their adult counterparts, who often spend valuable time challenging him on fundamental components of sustainable leadership such as avoiding assumptions and leveraging the strengths of others.
"Some adult participants come to my sessions with long faces and an eagerness to tell me why the session will be a waste of time, after their bosses have invested hours of valuable time to help them prepare. These young student leaders focus instead on finding parallels between the concepts we discuss and historical figures like Gandhi, Martin Luther King and Nelson Mandela, and are motivated to lead in similar ways themselves! This is quite different from the skepticism and cynicism some adults, and even college students, express when they attend my sessions."
The teacher of the Montessori class,Terry Cater-Cyker, played a critical role as she contextualized the material, related it to real projects and current issues in the class or school and incorporated the material into their curriculum before the sessions. After each session, the material taught was used throughout the remainder of the semester and even reinforced during graduation. The training apparently made lasting impressions on both the sixth graders and their parents.
"During the sessions, follow-up conversations, meetings and graduation, I was intrigued by many of the comments made by the students as they shared their views on leadership," Gonzalez said. The following are some of the actual comments he gathered from the students:
"Leadership is showing that you can get others to accomplish something special or hard."
"Keep in mind a person's strengths even when they make me mad."
"If I am wrong, I learn something."
"Social responsibility is being loyal to your friends."
"Leadership is getting things done and having fun."
"I was also moved by the anecdotes shared by their parents," Gonzalez explained. "One of the highlights of my year was when two parents came up to me at a school event referring to a 'Medicine Wheel' team-building activity I conducted with their son's class. They told me how deftly he was able to use those techniques to better understand them and accurately explain how their traits drive their actions."
This feedback has resulted in a change of focus for Gonzalez and GIVE. "All of these words of encouragement and excitement about our success in bringing leadership development to students of this age group inspired me to maximize the number of sessions I facilitate with young students in 2013 and in the future. Our plans to reach this new generation of leaders have become a priority that will generate many opportunities for secondary school classes to benefit from these programs."
Gonzalez co-founded GIVE Leadership Institute in 2010 to address key obstacles to sustainable teams with approaches and techniques that were developed while learning from his own mistakes and confronting the resistance and realities of the workplace. The model he created for GIVE is a framework of time-tested organizational tools derived from years of experience applying O.D. theory to real-life situations as a leader in organizations such as Motorola, CBS Sports and Cornell University.