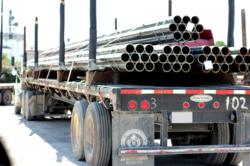 Freight Shipping & Logistics
Houston, TX (PRWEB) December 01, 2012
N-Motion Freight is a full-service transportation provider, specializing in Flatbed & Step Deck (Full & Partial Truckloads), Heavy Haul Freight, Oilfield Hauling & LTL Services.
Being one of the world's best transportation providers doesn't happen overnight, but N-Motion Freight works hard every day for its customers in offering them a wide range of customized worldwide transportation and logistics solutions. The relationships that N-Motion Freight has built over the years with truck, oceanic, and air carriers = greater flexibility and multitude of equipment options to bring freight to the job site.
N-Motion Freight doesn't rely on one or even just a few carriers, which means we have countless options when it comes to solving each and every freight situation. N-Motion Freight's experience in the transportation industry makes it feasible to follow trends in the market and make informed decisions as to when surplus might be an issue. The ultimate goal is to leverage the purchasing strength in the market to give the customer the best available rates.
N-Motion Freight prides themselves in their cargo monitoring and quality reporting–keeping customers well-informed throughout the shipping process. For these demanding divisions, we provide 100% air ride equipment, including flatbed, step deck, dry van and lowboy trailers.
N-Motion Surpasses Expectations
N-Motion Freight remains a staple in the freight shipping industry with their competitive pricing. This is all due to the mass volume of freight that N-Motion brings, to not only markets of scale, but even the little shippers. Our strong network of affiliated carriers and dedicated fleets help N-Motion Freight assist each customer with a personalized transport program.
The owner operators that N-Motion Freight uses are highly experienced, carry ample up-to-date insurance, and know the ends and outs of the shipping industry on a first hand basis. These drivers livelihoods depend on their level of service provided and they pride themselves on this as well. N-Motion demands a high level of service and they believe that the hard work of the drivers paves the way to success.
http://www.NMotionFreight.com
1-855-407-4160