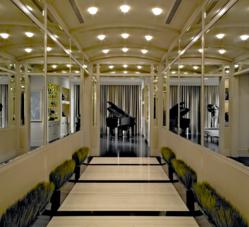 Designing a residence can be very personal for a client. It may require many more meetings with the owner than a typical hospitality project. - Lisa Roth
Houston, Tx (PRWEB) December 01, 2012
Montgomery Roth was recently awarded an Honorable Mention Dream Home Award for their masterful work on a custom condo in the Apogee, a new condominium in Miami, Florida. Lisa Roth and her team were in charge of all the architectural design, interior design, and furniture procurement aspects of the project.
The Dream Home Awards are presented to those companies and individuals who assist in creating America's Dream Homes and set new standards of excellence in the Nation's Building Industry. The competition is open to interior designers, architects, building and remodeling firms, communities and trade contractors.
When entrepreneur, Richard Gray, purchased his home in 2008, he turned to Montgomery Roth to transform his new beach condo into his dream home. Renowned architect & designer, Lisa Roth, had worked with Gray previously on his home in Connecticut and was struck by the "incredible" view of the harbor, stating that, "Every room had phenominal views...Essentially, it is a glorified wraparound porch that made this condo exceptional."
The Apogee started with an interior of 3,900 square feet of unfinished concrete floor space, with no architectural details or finishes. Though the project ultimately took two-and-a-half years to complete, Roth could see that the building's style would match the contemporary, art deco feel their client was seeking. She and her team of 30 architecture and interior design professionals designed the Apogee condominium for Gray, focusing heavily on impeccable lighting, custom furnishings, and exotic wood veneers.
One of Montgomery Roth's specialty services is furniture procurement. Every piece of furniture in the condo was specifically selected or designed custom by their team of professionals to perfectly accent the overall design.
The finishing touch of the project was the selection of the artwork to be featured throughout the condo. Each piece was specifically chosen for its space by Roth and art consultant, Isabella Garrucho of Isabella Garrucho Fine Art. "The collection is comprised of well selected paintings and sculptures representing the best of Modern Latin American Masters," explained Garrucho. The collection is the perfect companion to the architectural design of the home, thanks to the tastefully muted colors chosen by Roth.
When asked how this type of project differs from a corporate one, Roth replied, "Designing a residence can be very personal for a client. It may require many more meetings with the owner than a typical hospitality project." She went on to add, "In the case of a second or third home like this one we as designers also make selections for everything in the home including crystal, china and silver."
On top of winning the Dream Home Award, the Apogee condo has gained national attention, having been featured in a double-page spread in Luxury Home Quarterly.
Mr. Gray is very pleased with his new home as architecture, interior design, and a collection of fine art have come together to make a masterpiece on the shores of South Beach thanks to Lisa Roth and her team.
About Montgomery Roth Architecture & Interior Design, L.L.C.
Montgomery Roth is an award-winning interior design, architectural design and procurement firm that delivers exceptional results based on a delicate balance of technology, aesthetics, and economics in the creation of a functional environment. This philosophy has been the key to Montgomery Roth's success in creating outstanding architecture and interior designs for hotels, restaurants, bars, spas, casinos, and residential projects. Montgomery Roth's furniture procurement services are second-to-none and go hand-in-hand with their architecture and interior design services to offer clients the total package in custom interior design.
HOUSTON OFFICE: 2200 West Loop South, Suite 650, Houston, TX 77027, Tel. 713.654.9400, Fax. 713.654.940, http://www.montgomeryroth.com, info(at)montgomeryroth(dot)com
NEW ORLEANS OFFICE: 400 Poydras Street, Suite 1720, New Orleans, LA 70130, Tel. 504.568.1240, Fax. 504.568.1245