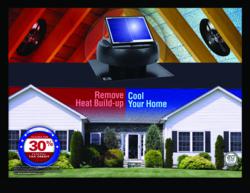 It is imperative to reduce energy costs and improve mold and mildew issues i our homes and with the federal and state incentives now available, there has never been a better time to do so.
Incline Village, NV (PRWEB) December 01, 2012
Solar attic fans have become popular with the green movement as a way to effectively reduce energy costs and maintain the health of the home. Many states, local municipalities and utilities have opted to reward home owners for improving the energy efficiency of their homes by offering rebates or tax credits. The 30% federal tax credit for solar attic fans applies to the cost of the product, the tax on the product and the cost of installation. In addition, California residents are qualified for a variety of local utility rebates and incentives, ranging from $50 to $200 cash back.
U.S. Sunlight's Solar Attic Fans are award winning, received "Best of Show" at the 2011 National Hardware Show and "Best Sustainable Product" of 2011 by BUILDERnews publications. U.S. Sunlight has developed their Solar Attic Fans and All Purpose Ventilators to provide maximum efficiency and durability. These appliances are a perfect solution to reduce air conditioning bills in the summer months and reduce attic mold and mildew and ice damming in the winter months. Solar Attic Fans and All Purpose Ventilators are easy DIY products to quickly improve the health and energy efficiency of a home. In regions, such as California, where winters are moist with limited sunshine available and summers are hot, U.S. Sunlight developed the Solar Controller – an electronic thermostat and humidistat with dual power capabilities. The Solar Controller includes an AC power adapter to allow the U.S. Sunlight Solar Attic Fans and All Purpose Ventilators to operate on solar power when it's available and switch to AC power in the evenings or on overcast days.
Purchase a Solar Attic Fan or All Purpose Ventilator before December 31, 2012 to take advantage of a local California rebate and the 30% federal tax credit. CEO of U.S. Sunlight, Geoff Foreman, states, "We are pleased to provide a comprehensive list of available tax credits and rebates on our website that are available throughout the country. It is imperative to reduce energy costs and improve mold and mildew issues in our homes and with the federal and state incentives now available there has never been a better time to do so."